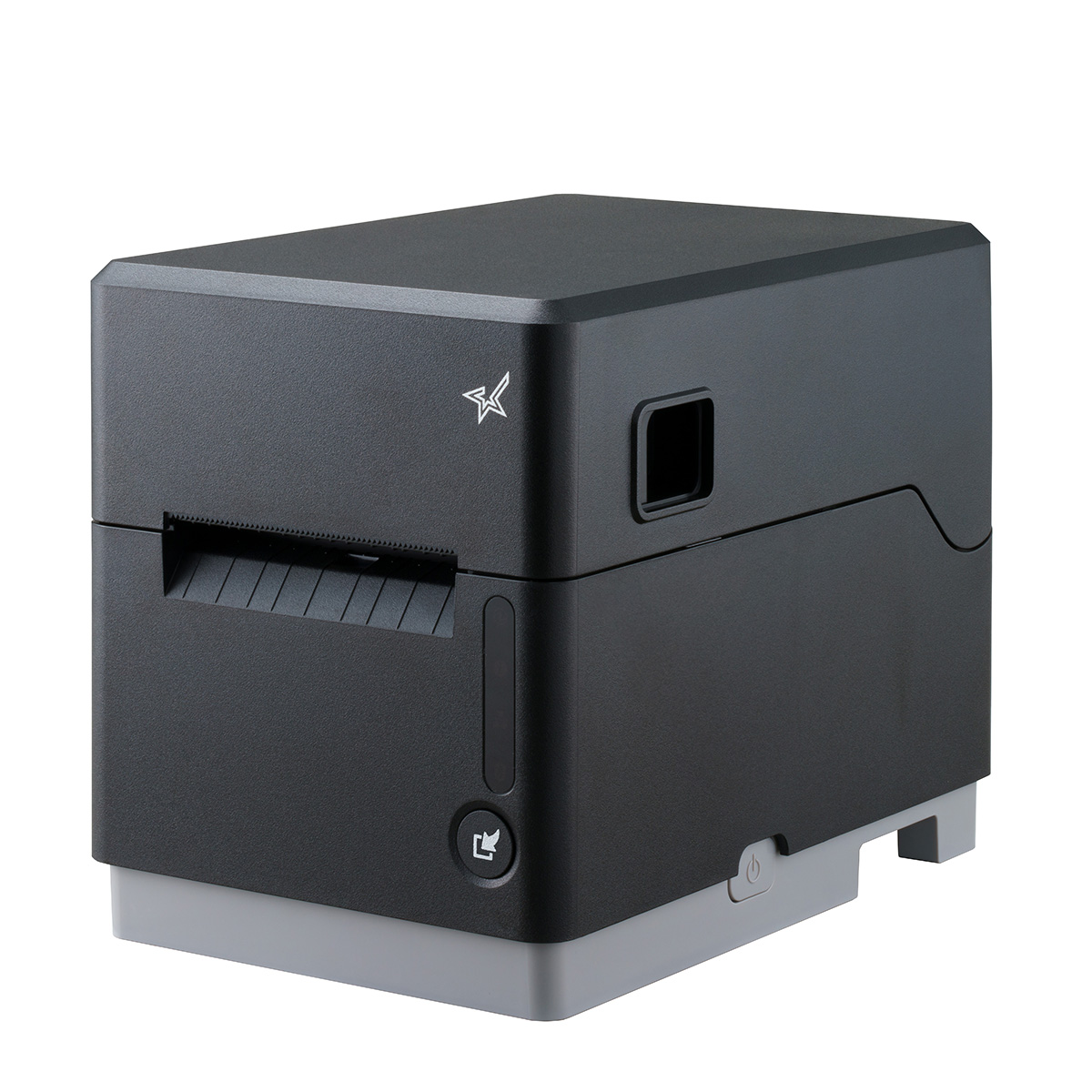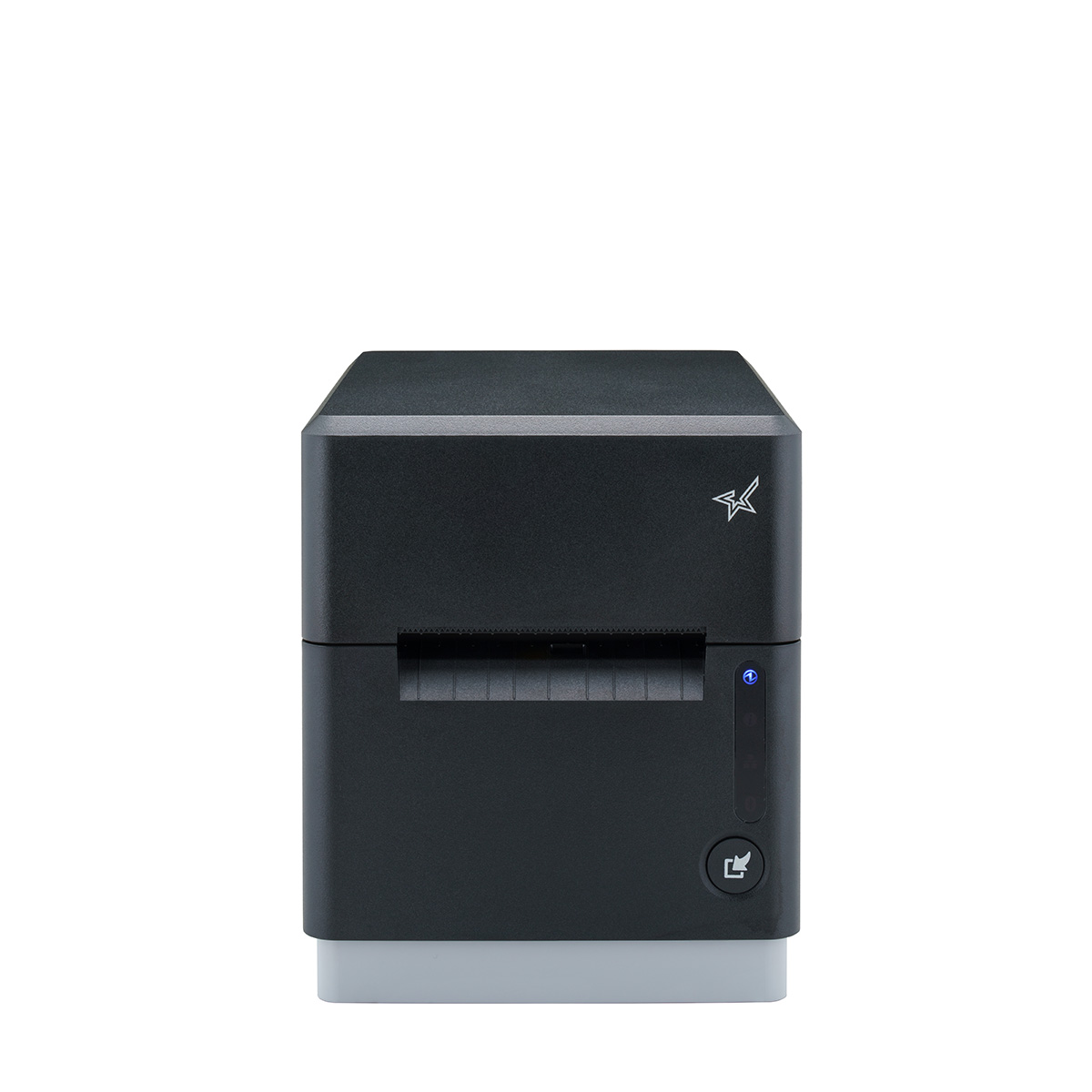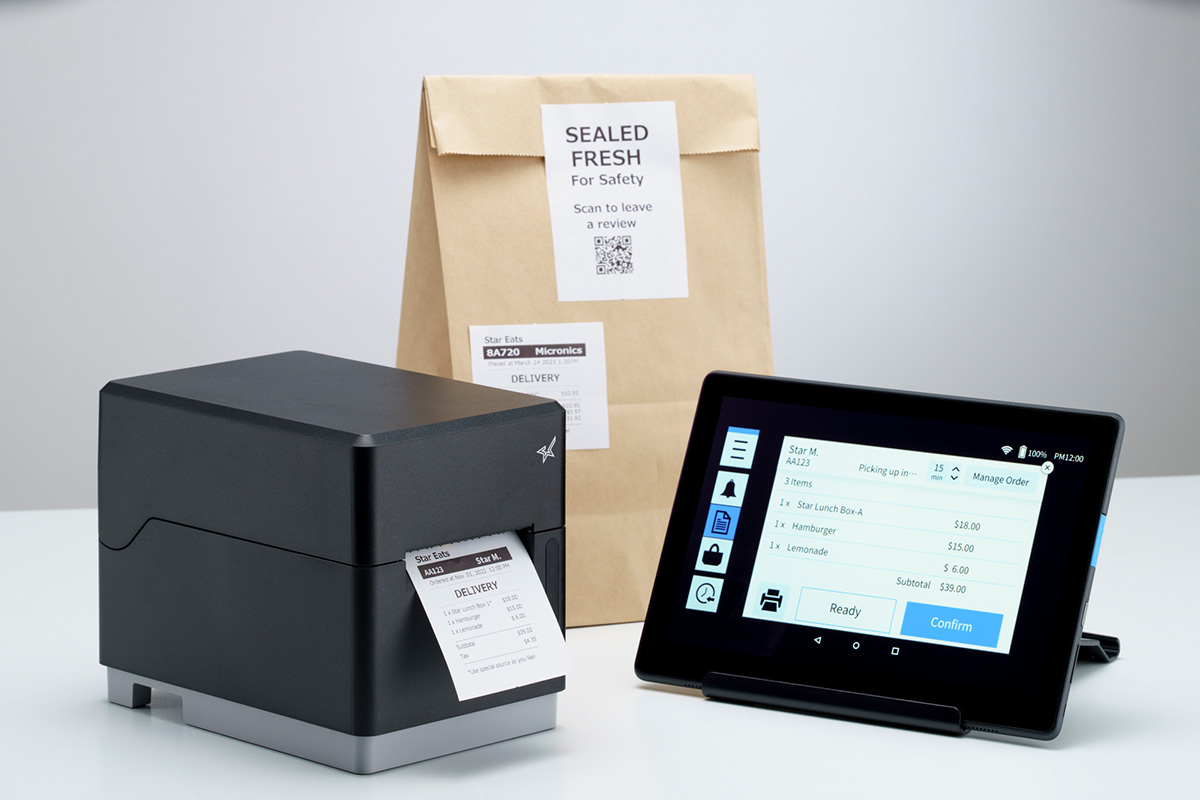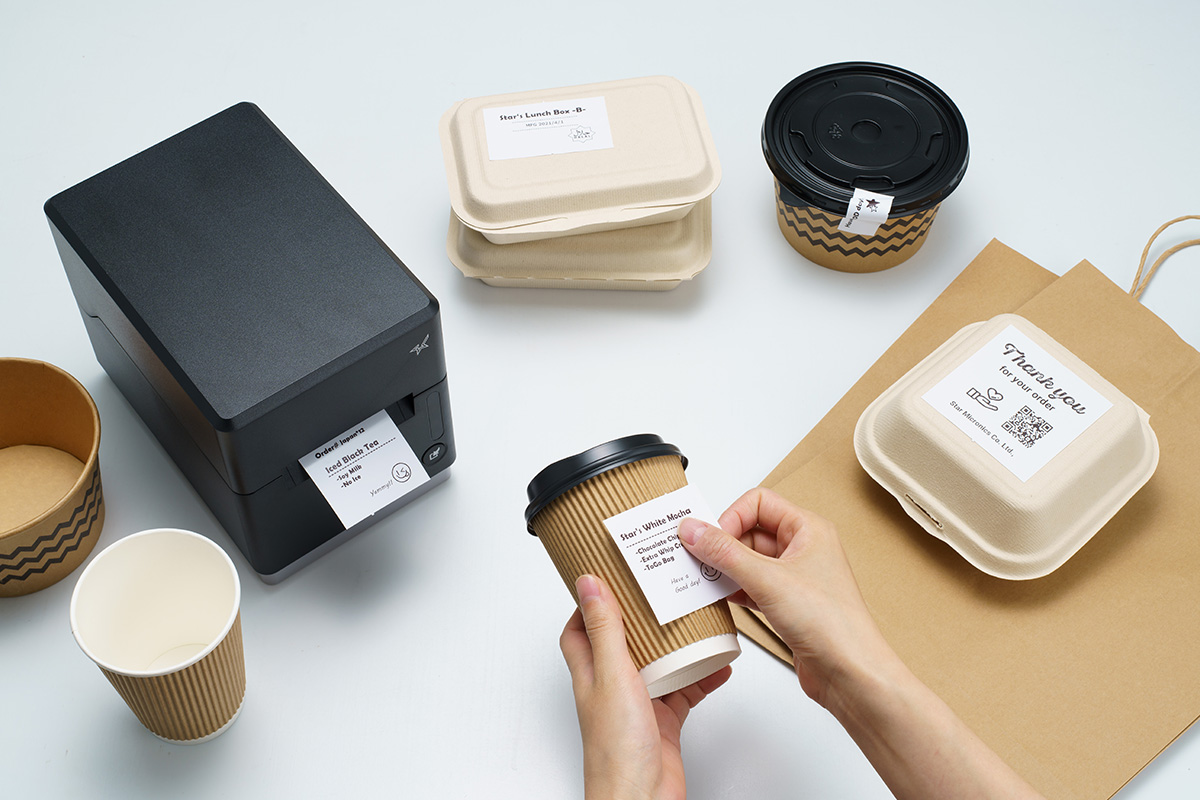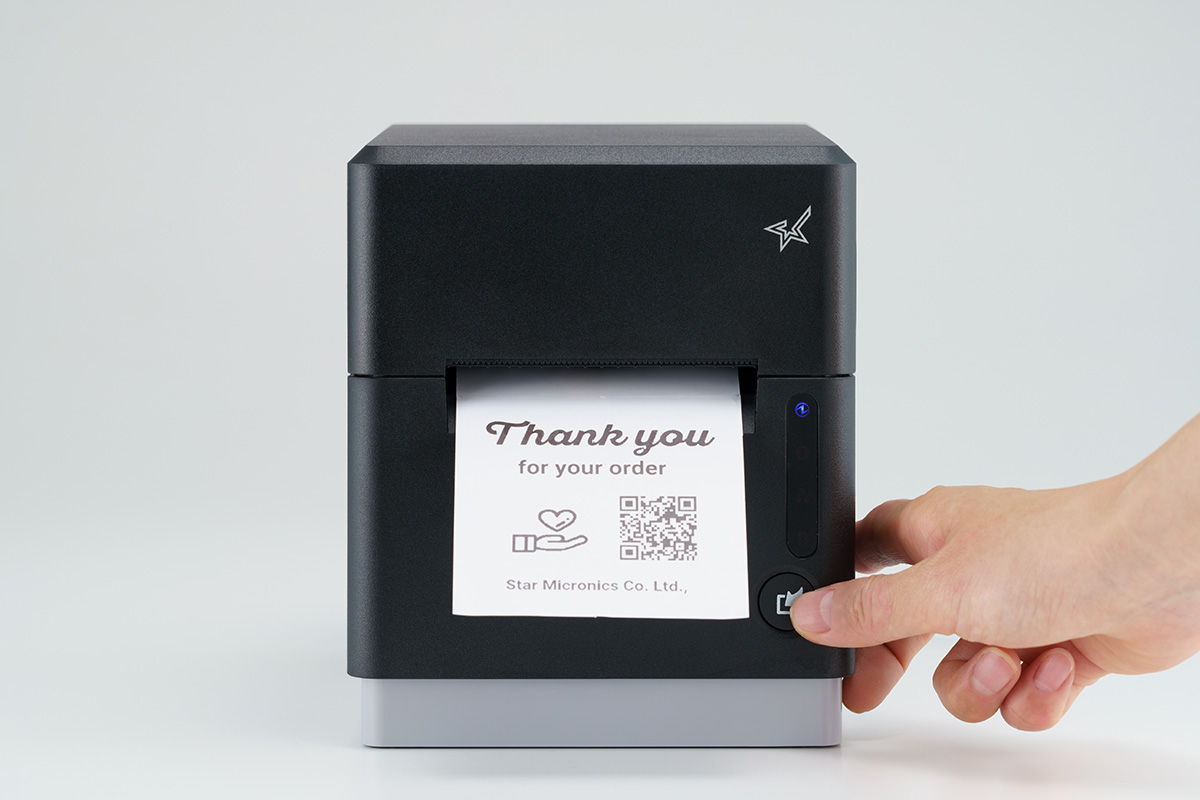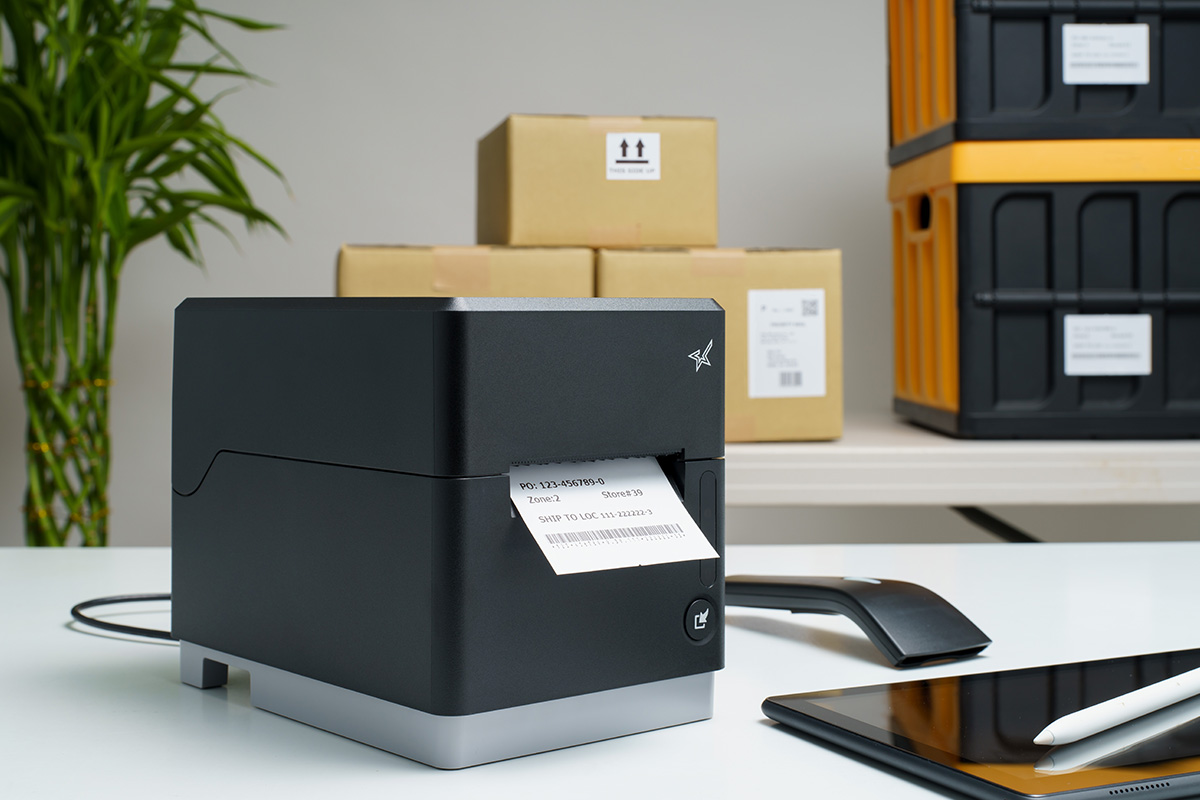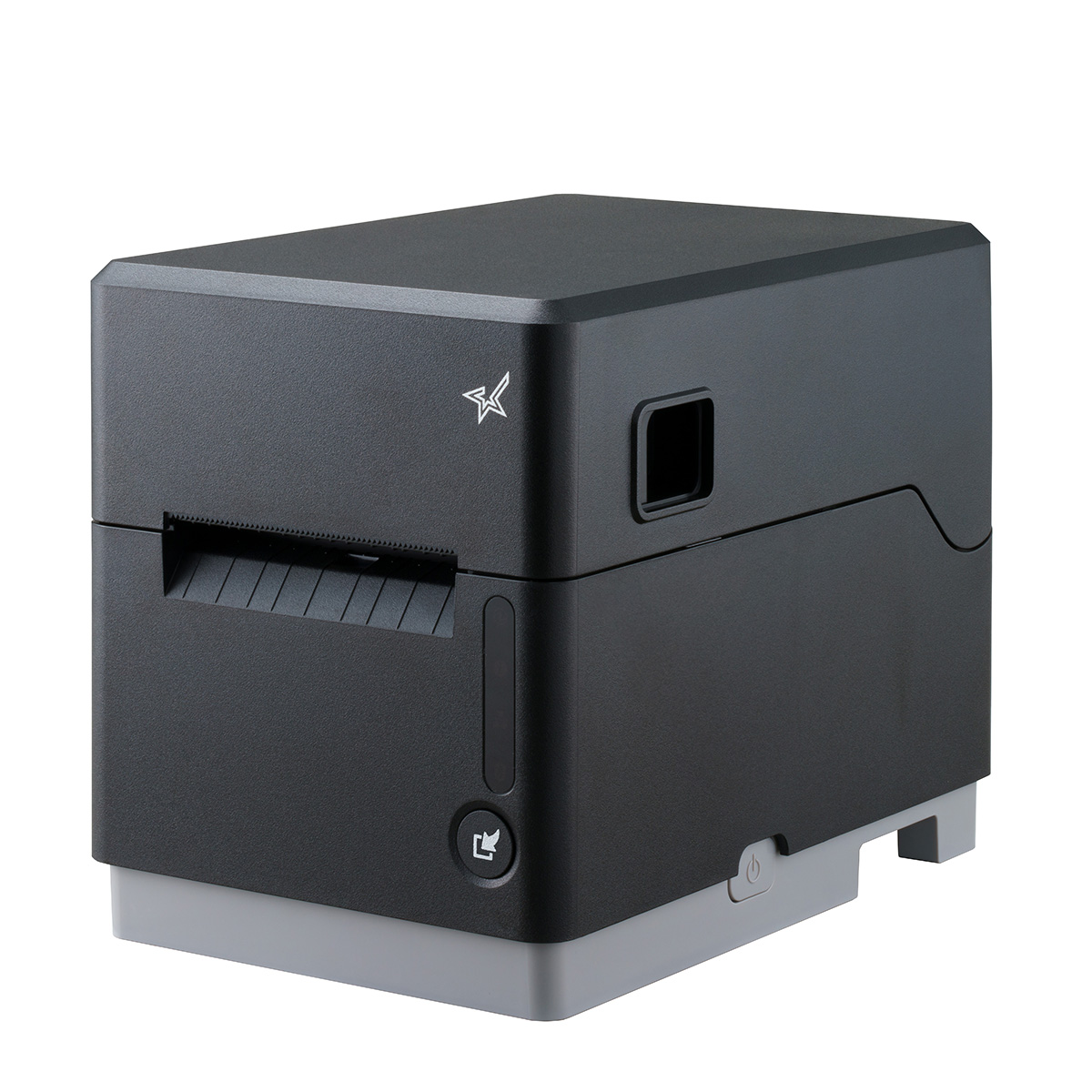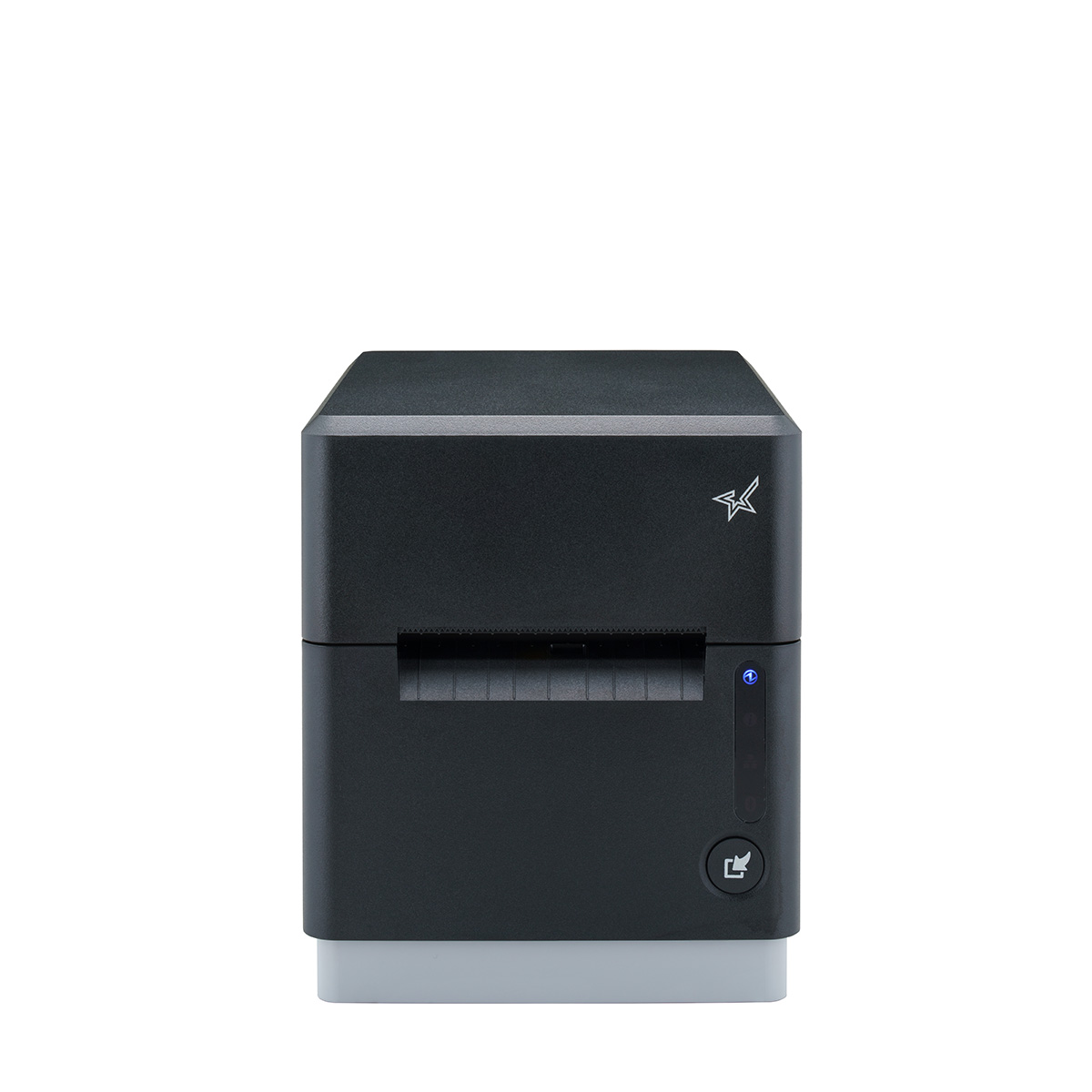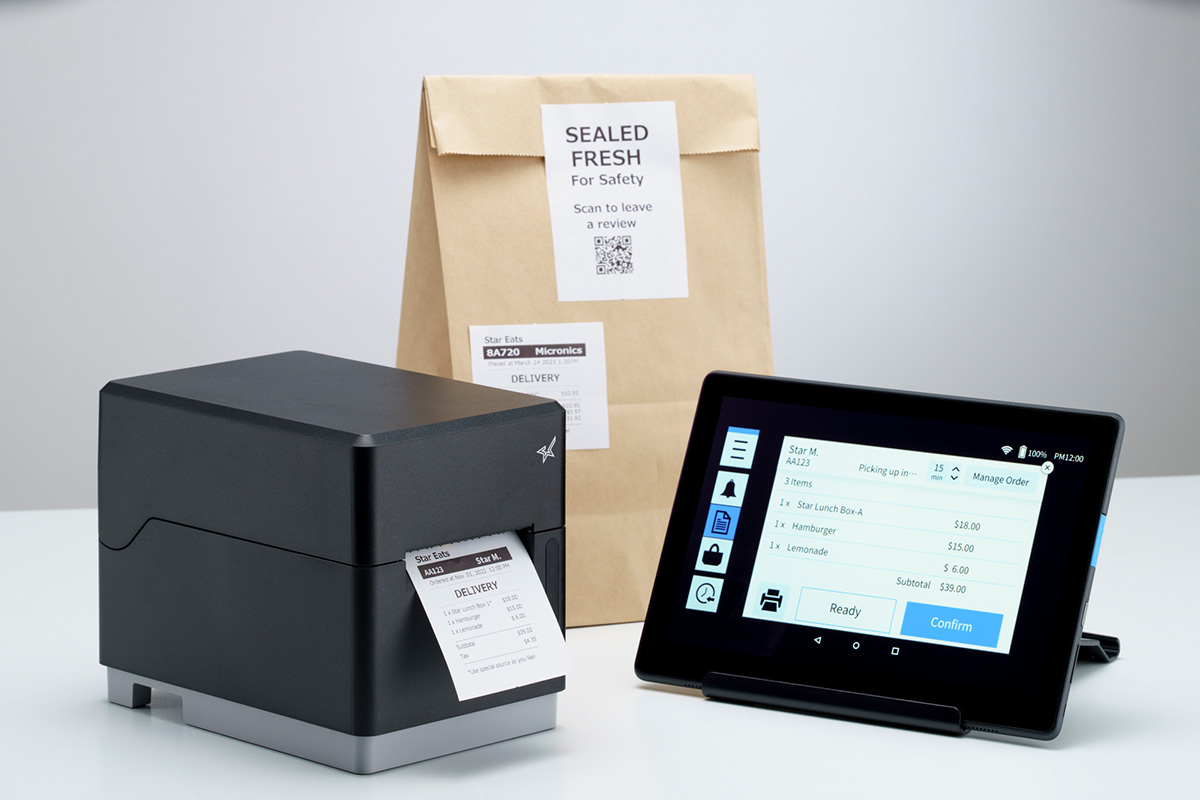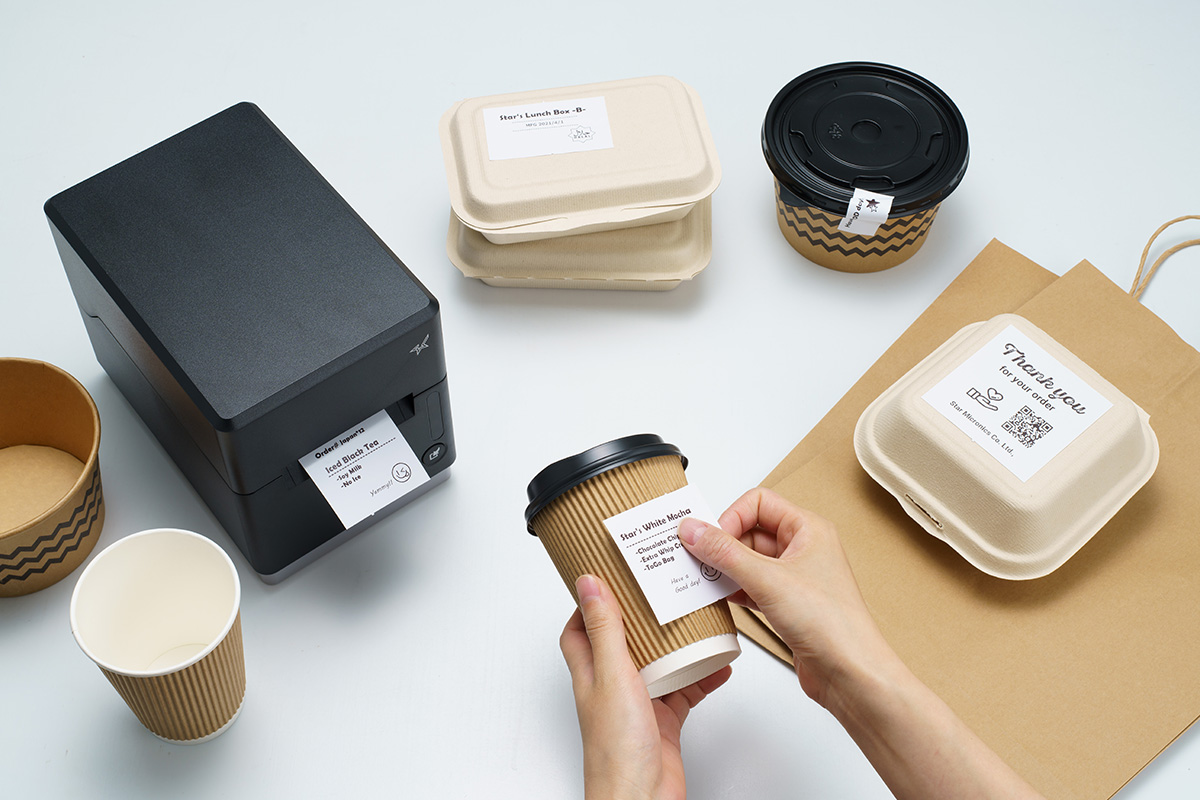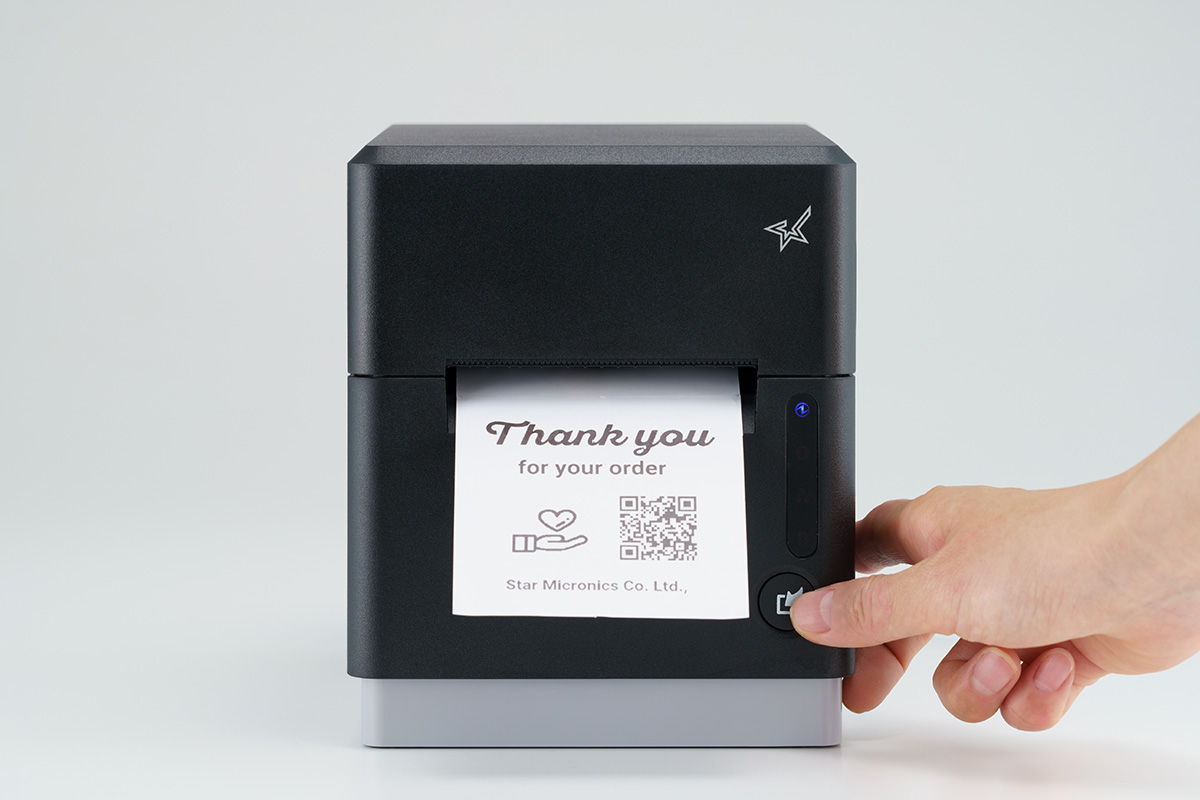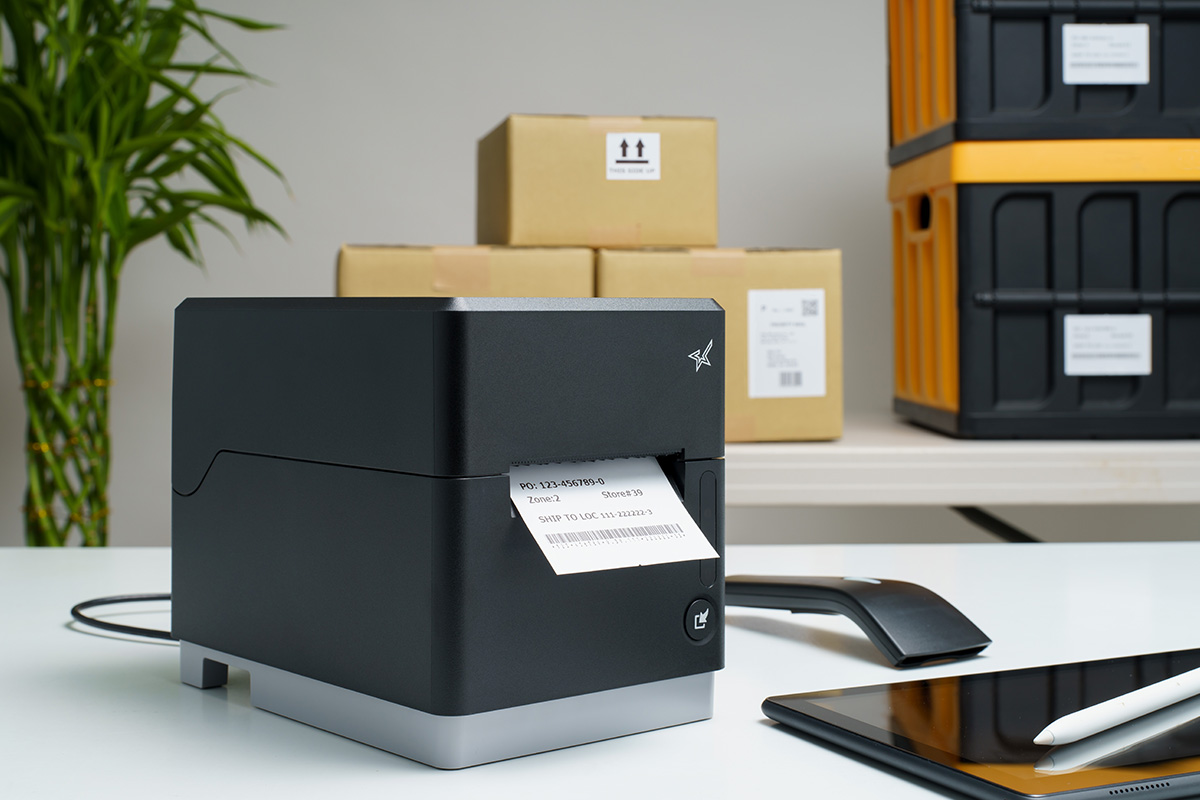 A label printer that pursues optimization of store operations
Environment-friendly linerless strong adhesive label paper is available.
Compatible with strong adhesive linerless labels and a wide range of paper types and paper widths
Easy maintenance design for long-term use
The common control method(integration) as Star's receipt printers
58mm Thermal Paper
80mm Thermal Paper
Sticky Paper
Features
Compatible with strong adhesive linerless labels and a wide range of paper types and paper widths
Smooth paper transport and printing with good print quality are possible even with strong adhesive liner-less labels using strong adhesive glue. In addition, paper jams are unlikely to occur, contributing to reliable operation. It also supports weak adhesive linerless labels, die-cut labels, full-surface labels, and receipts. In addition, by adopting an adjustable paper guide (*2), users can set paper rolls of various widths without additional parts.
Easy maintenance design for long-term use
The mC-Label3 is designed so that parts that have worn out after long-term use can be replaced without tools. The video manual provides easy-to-understand instructions on how to replace parts and how to clean them. Even if you forget when it is time to clean or replace the printer, the printer will notify you when the time is approaching by lighting the LED and printing a message. In addition, by using the Device Monitor provided in the Star Micronics Cloud Services, you can receive email notifications from the cloud about the right time to replace parts according to the frequency of use of the printer.
The common control method(integration) as Star's receipt printers
Development kits, various drivers and utilities that can be used for multiple OSs such as iOS, Android™,and Windows® are available, just like conventional receipt printers. mC-Label3 also supports CloudPRNT, which enables direct printing from a remote server, so mC-Label3 can directly print orders via the cloud like online orders.
If you would like to see information other than the above features, please refer to the "Others" section.
Dimensions(mm)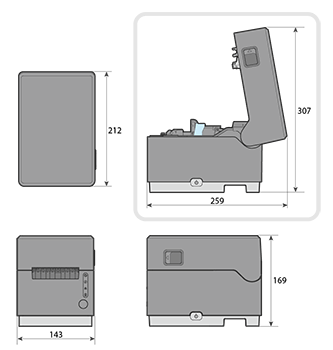 Specifications
Series
mC-Label3
Model Name
MCL32CI / MCL32CBI
Interface
USB-C (Power delivery)x 1
USB-A x 2
Ethernet x 1
Wireless LAN (Optional Wireless LAN Unit is required.)
Cash drawer port x 1
Bluetooth (only MCL32CBI model)
Body Color
Black
Installation
Horizontal
Printer Method
Direct Thermal Line Printing
Emulation
StarPRNT
Print Speed
Max. 180 mm/second
Paper
Specitication
Type
Thermal Paper Roll
Support media
Linerless label (Strong/Weak adhesive),
Die-cut label, Continuous label, Receipt
Print Width
25.4 – 80mm (Adjustment type)
Roll Diameter
Max. φ102mm
Top margin
Min. 3mm
Thickness
49-150μm (Varies depending on paper type)
Auto-Cutter
Cut Method
Selective: Partial cut (Leave center point) / Full cut
Sensors
Taken sensor, Paper jam sensor, GAP/Black mark sensor, Paper end sensor, Cover open sensor, Paper position sensor, Paper width sensor
Power Supply
External 100~240V AC±10%
Dimensions
143 x 212 x 169 mm (W x D x H)
Weight
Approx. 1.8 kg (without paper roll)
Accessories included in the box
USB Cable, LAN Cable, Power Supply Adapter, Power Supply Cable
Options
Wireless LAN Unit (MCW10)
Buzzer (BU01-24-A), Melody Speaker (MCS10)
Customer Display (SCD222U), Barcode Scanner (BCR-POP1)
Related Contents
For Corporate / Developers
Manual/Store Applications
Accessories/Options
Accessories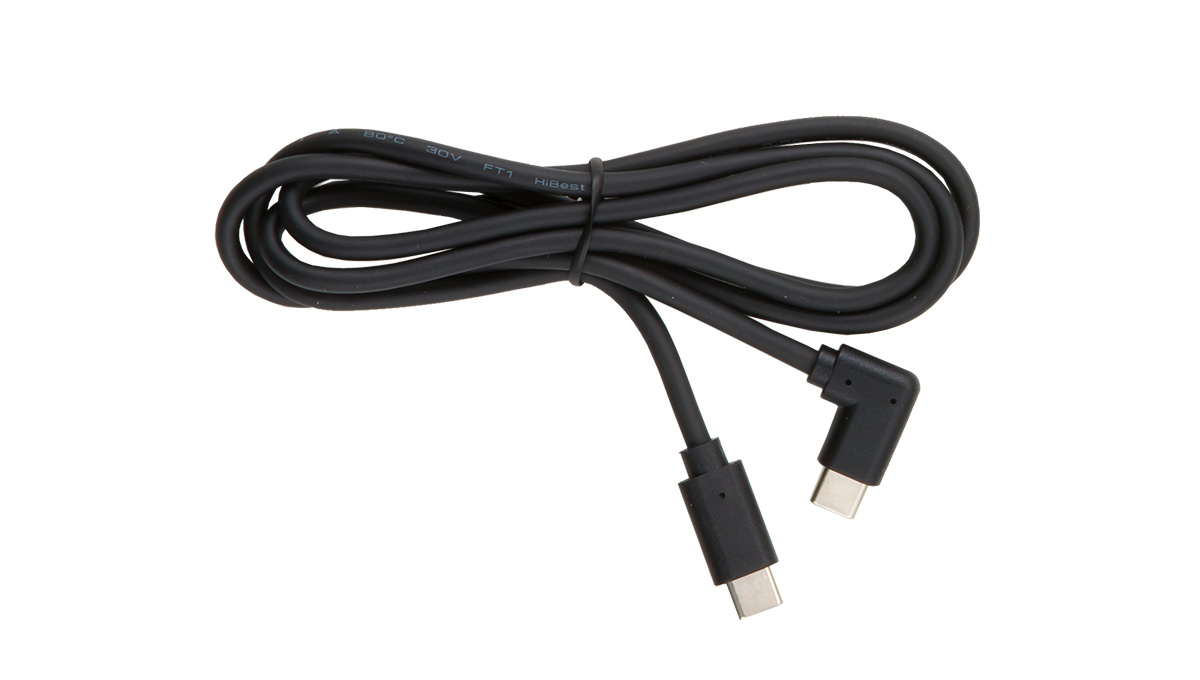 USB cable (C to C)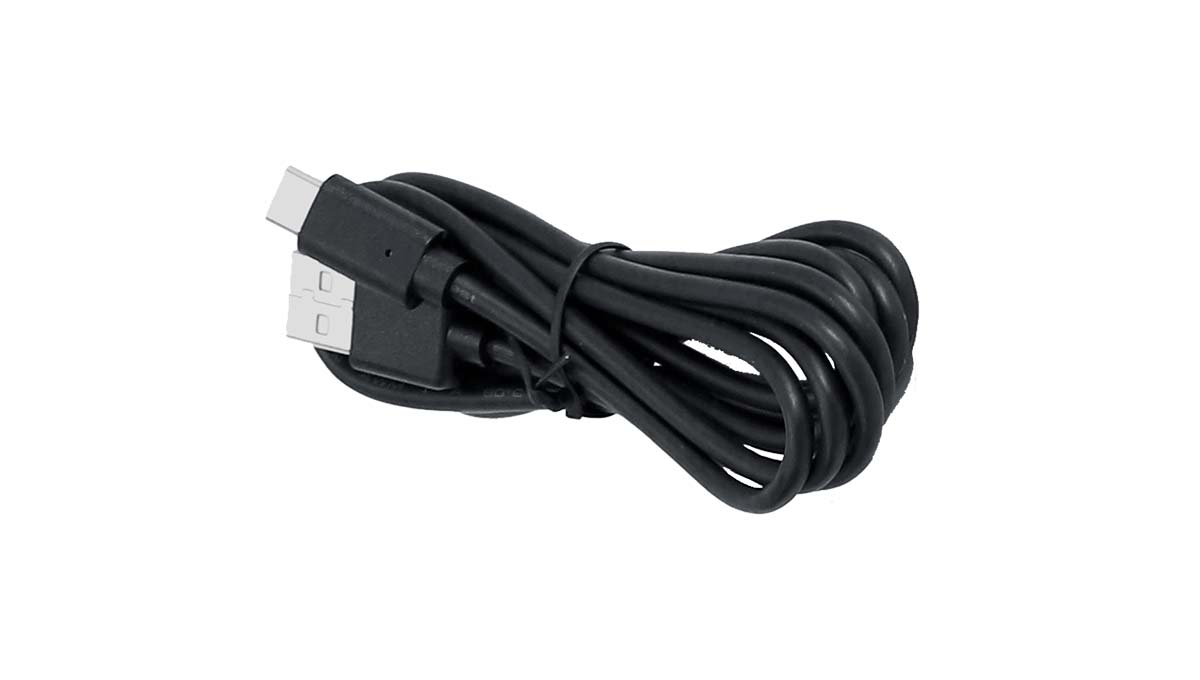 USB cable (C to A)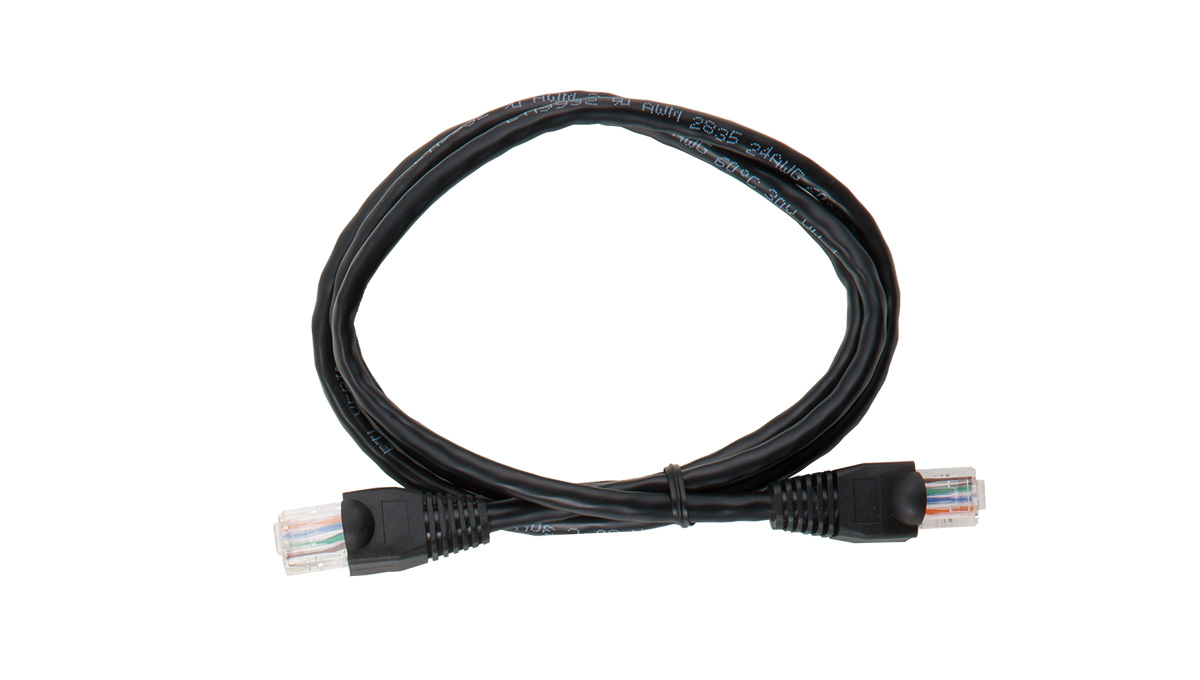 LAN cable
Options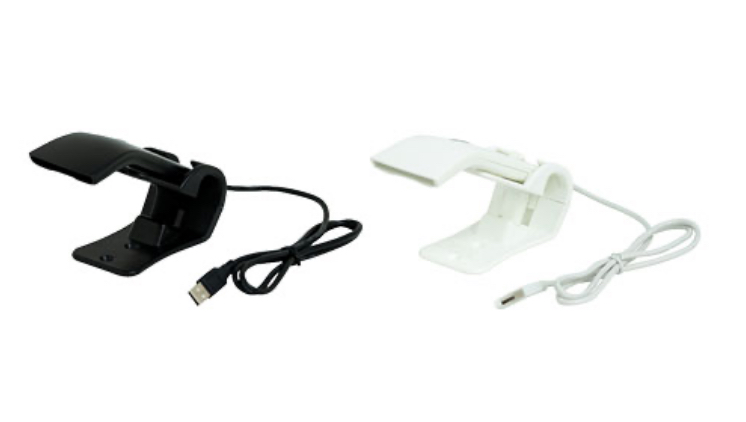 Barcode Scanner
"BCR-POP1"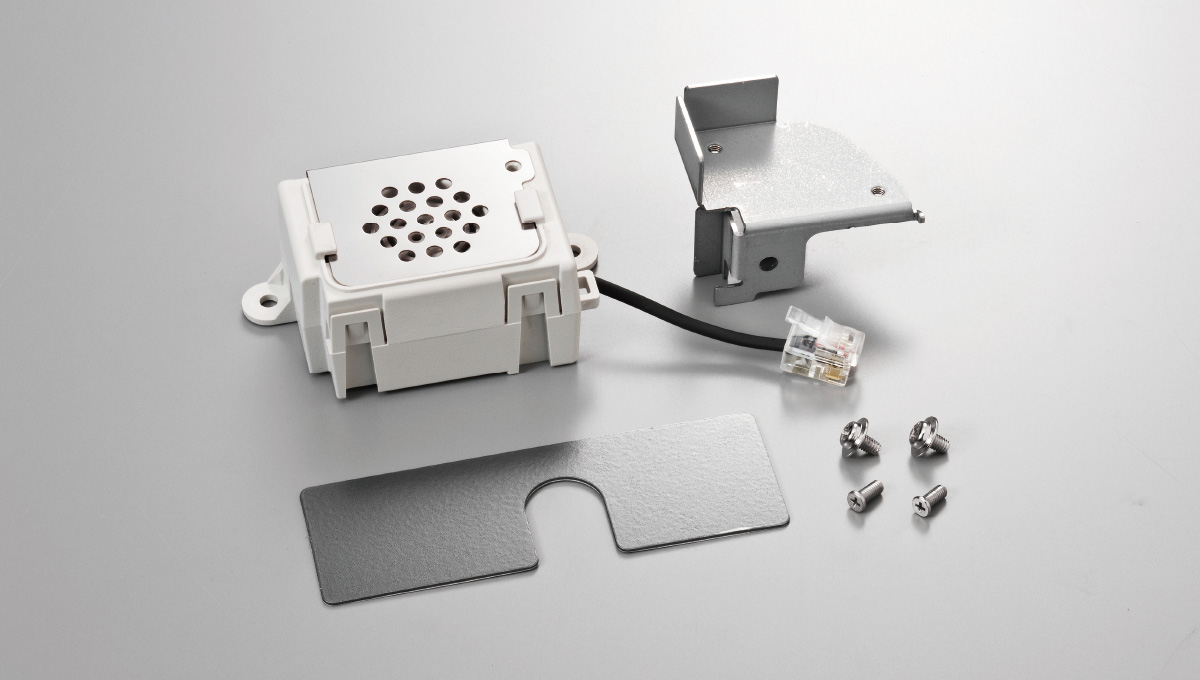 Buzzer
"BU01-24-A"
Other
Easy Setup
The "Star Quick Setup Utility®" mobile app makes it easy to set up optimal initial settings according to the paper type, change more detailed settings, and quickly check operation. In addition, a comprehensive online manual is available to support the printer's setup when installed in a store.
Intuitive label creation and printing service
In order to meet the requests such as "I want to easily create and print store original labels", we offer "Label Builder", which allows users to design labels intuitively, and "One Touch Label", which allows users to print created designs with a single press of a printer button.
Functions for various use cases
When using linerless labels, if the labels are printed continuously according to the order receipt, they may stick to unexpected places. In order to avoid such troubles, the mC-Label3 is equipped with a " Hold Print detection " that prints the next label after the printed label is taken. It is designed to meet IP22 so that it can be used without worry even near the kitchen.
Extensive communication method support
Supports multiple interfaces of USB-C, wired LAN, Bluetooth®, and wireless LAN. USB-C can automatically detect various OSs and communicate properly. It supports both power supply and communication to tablets, and communication with PCs. The "SteadyLAN" function provides the printer's wired network environment to mobile terminals, enabling a stable Internet connection on mobile terminals, and the communication speed of this function has been increased. In addition, we have newly developed and adopted the "TetherLAN" function that connects the printer to Internet by sharing the data communication of the mobile terminal with the printer via USB. Users will be able to connect the printer to Internet even outdoors.