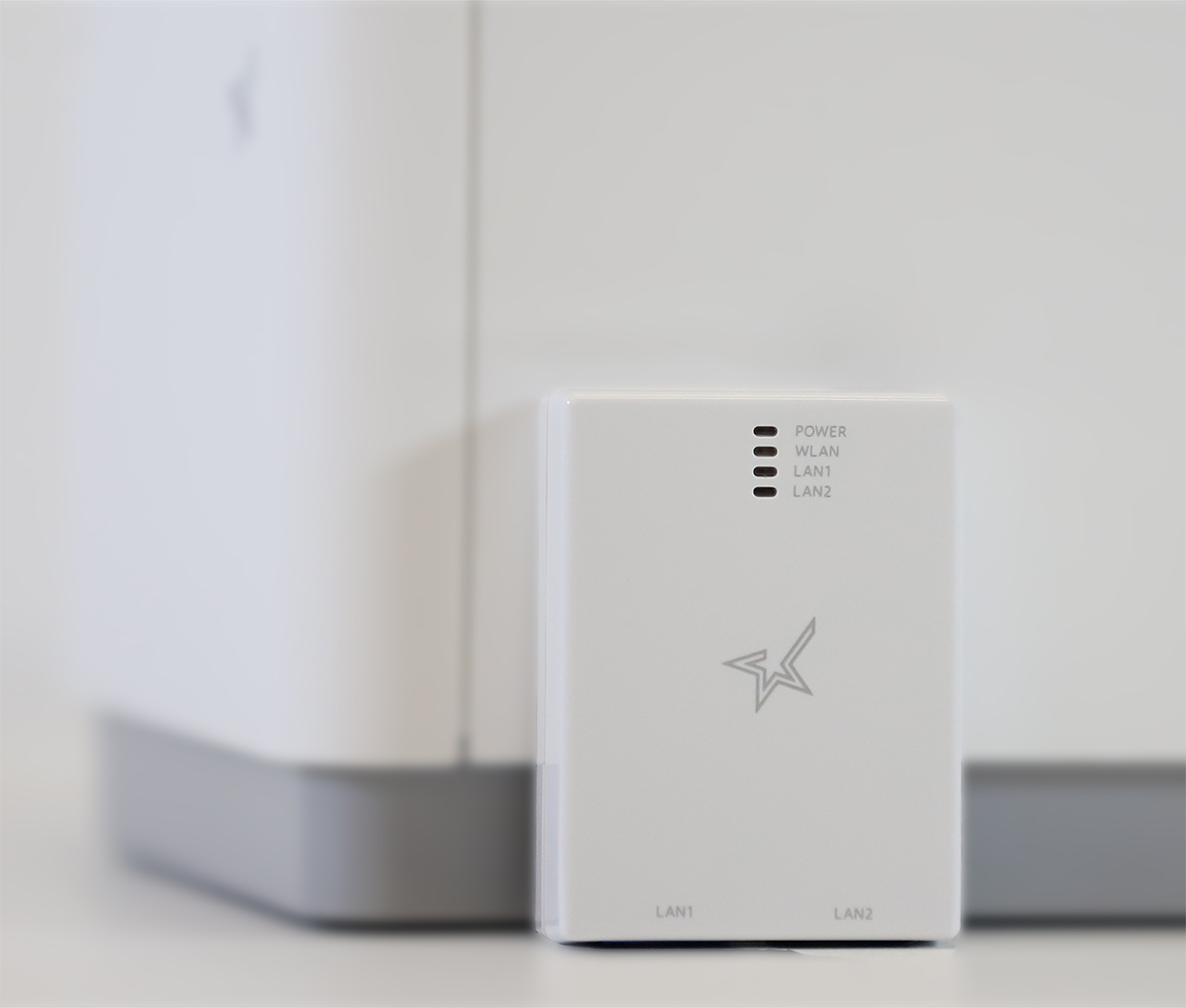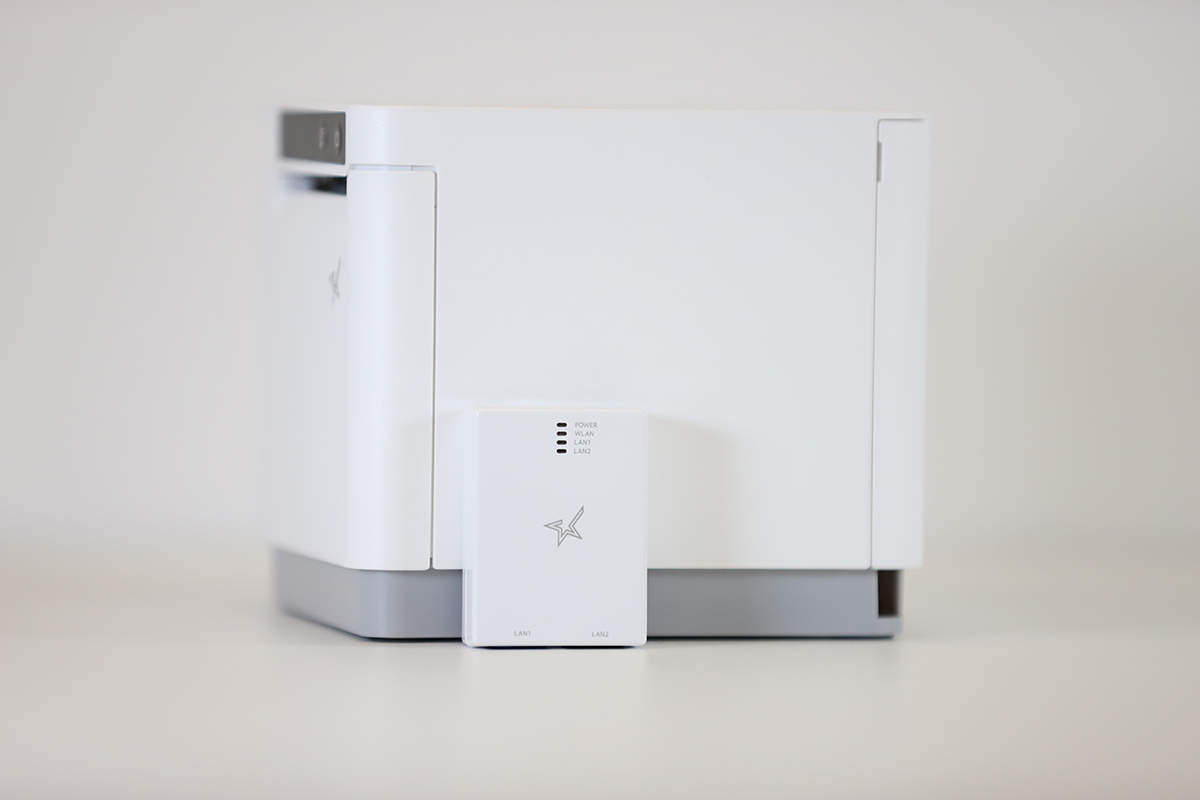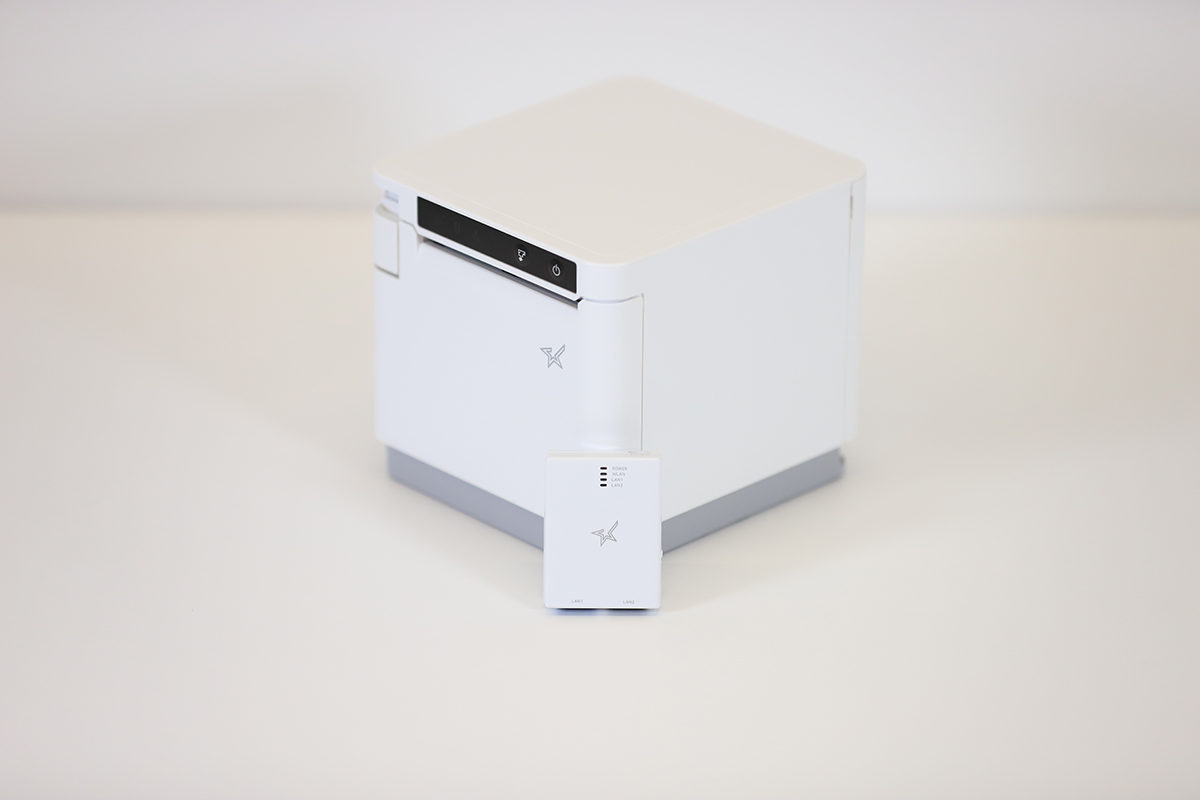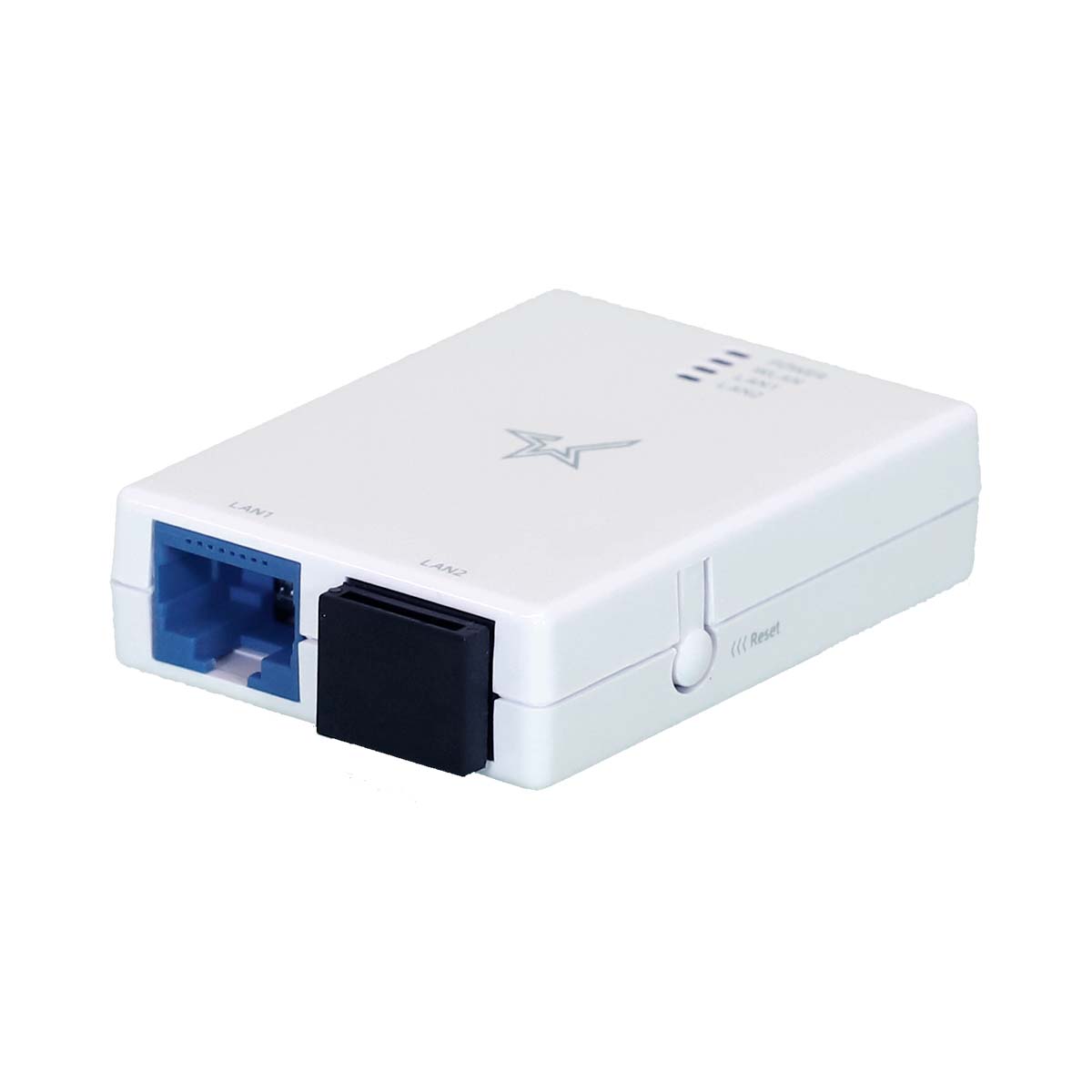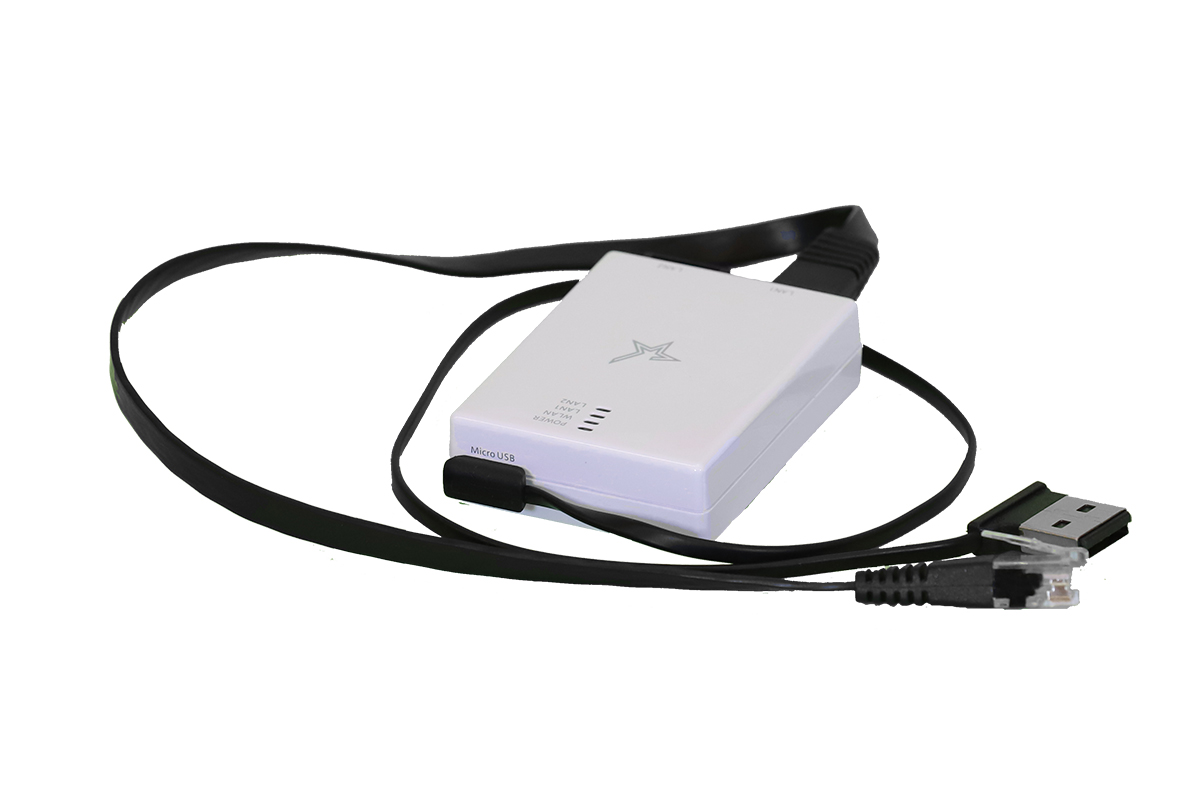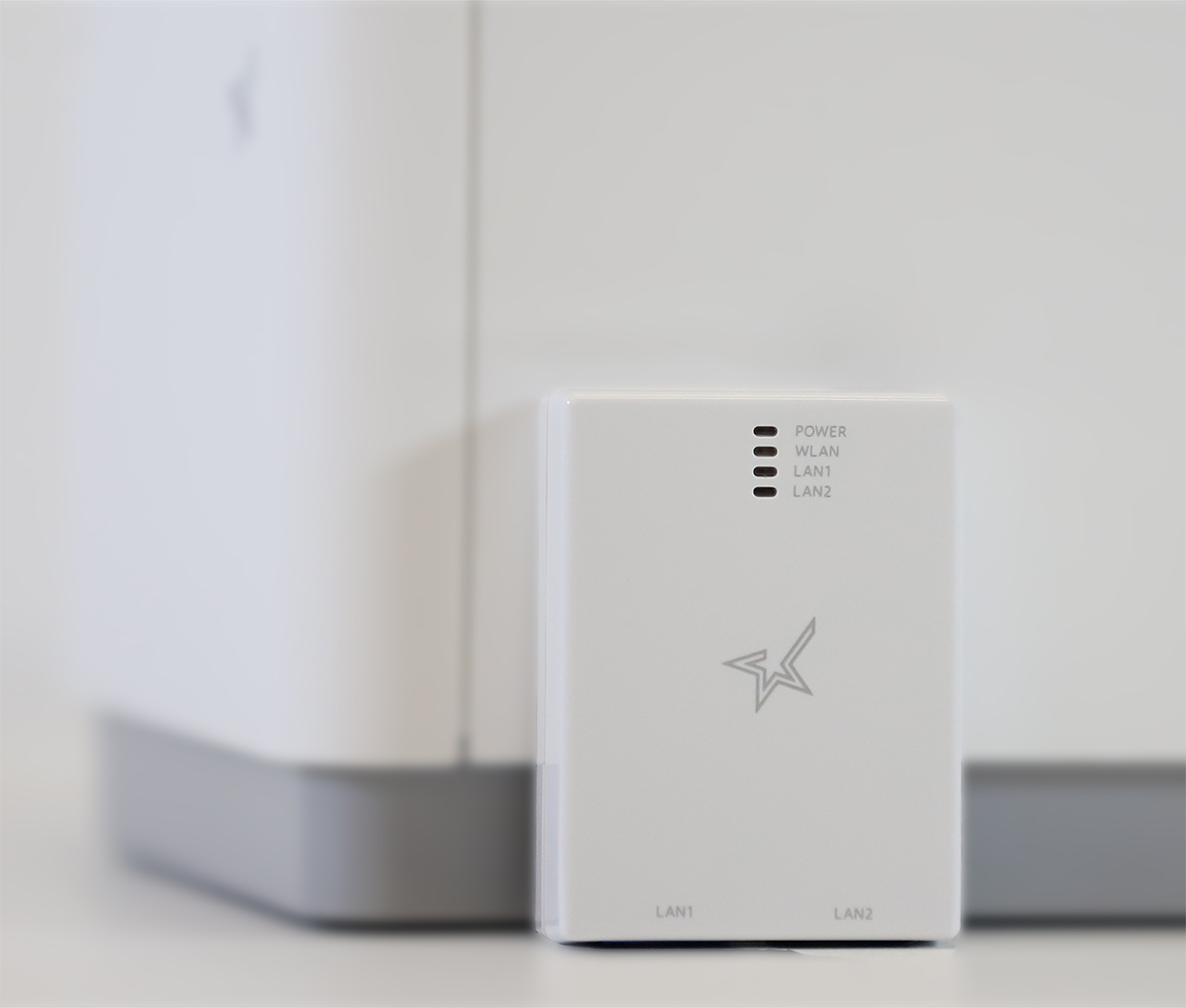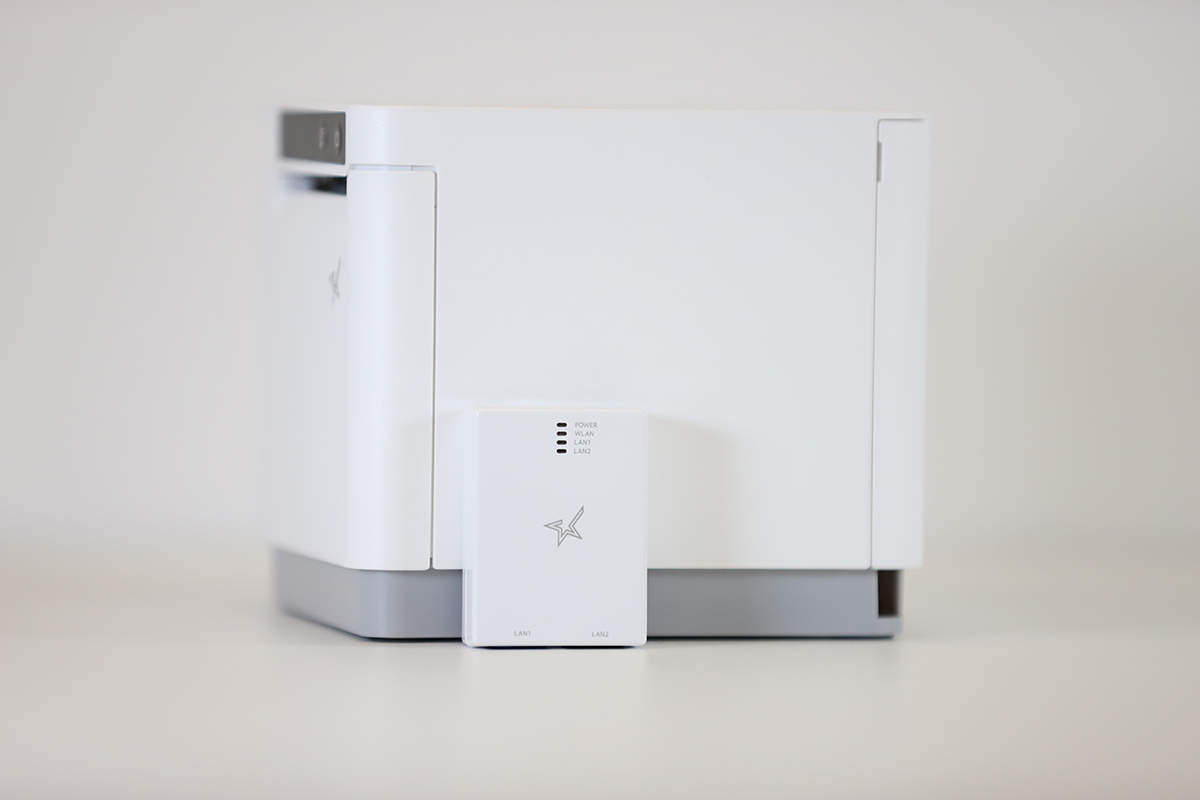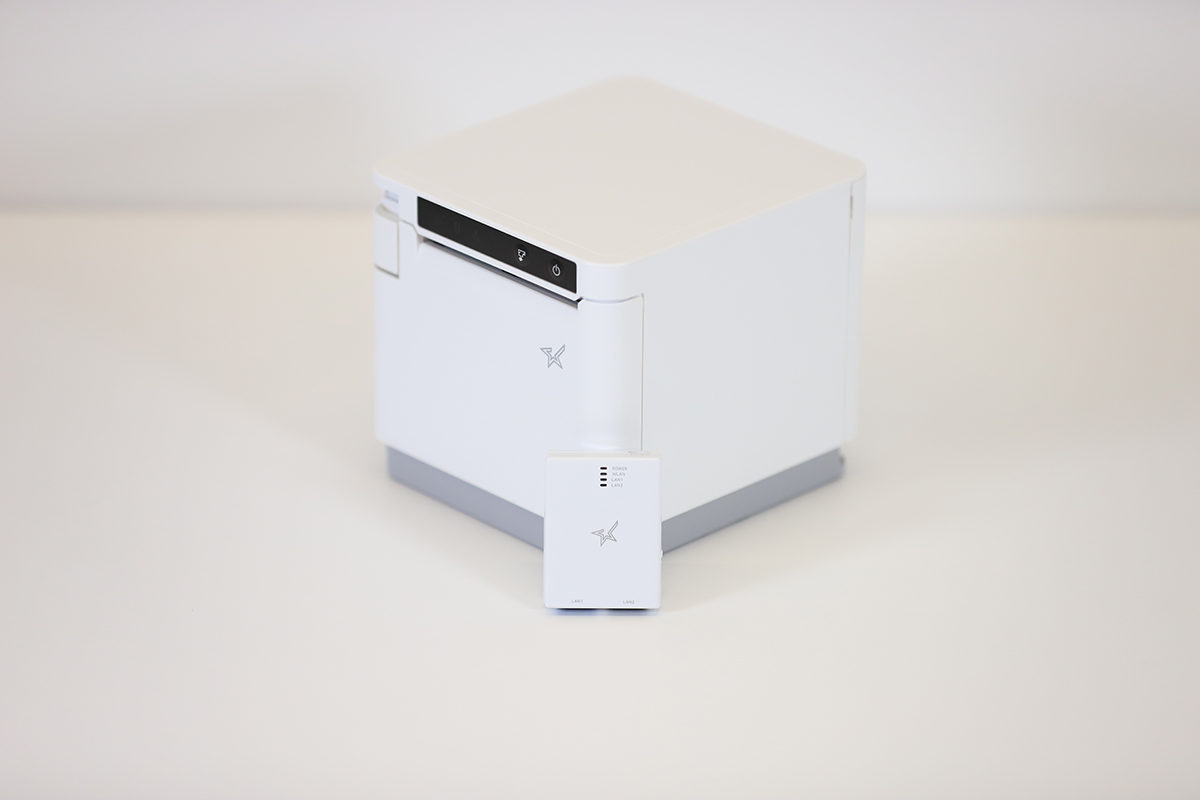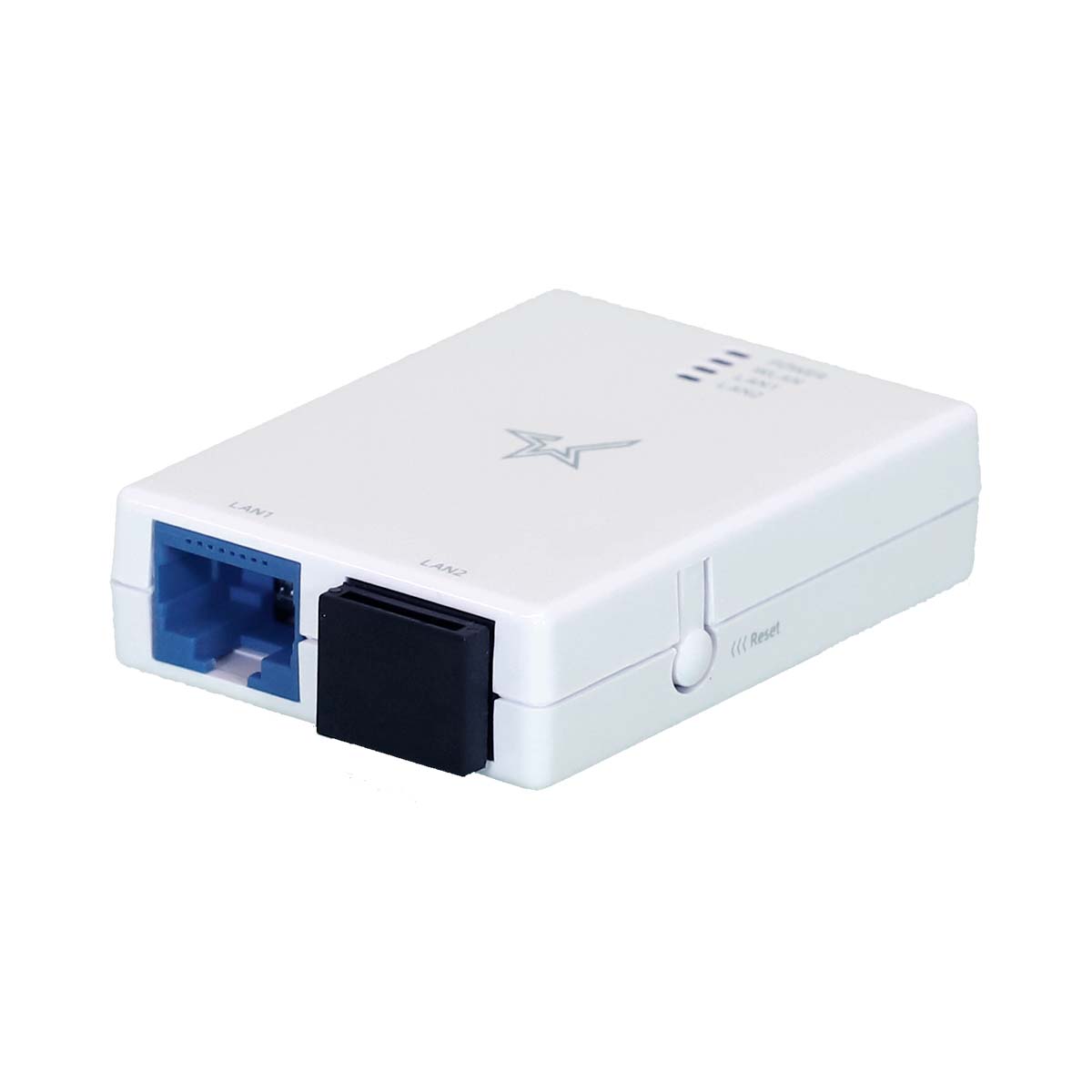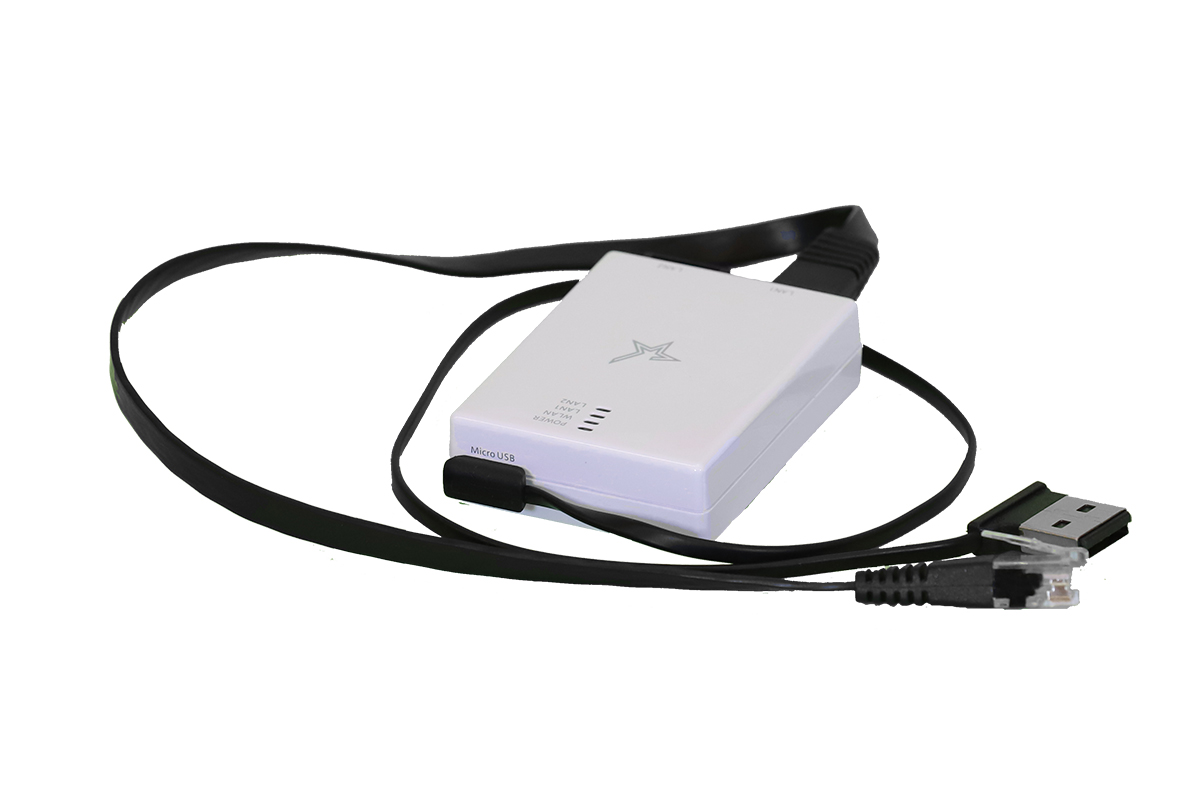 Easy switching to wireless LAN
A small wireless LAN unit that increases flexibility of shop layout
Easy switching from wired to wireless connection without additional settings to the application
Safe use in the kitchen by supporting 5GHz bands with low risk of interference
Realizes a neat layout without restrictions on wiring or installation location
Features
Easy switching from wired to wireless connection without additional settings to the application
By connecting Wireless LAN Unit and the thermal printer with LAN cable and using the "Star Quick Setup Utility", you can easily make it wireless without complicated work. If the printer is already connected via a wired LAN, there is no need to change the settings of the host application (mPOS, etc.), and it provides easy switching to a wireless LAN. The online manual is also available.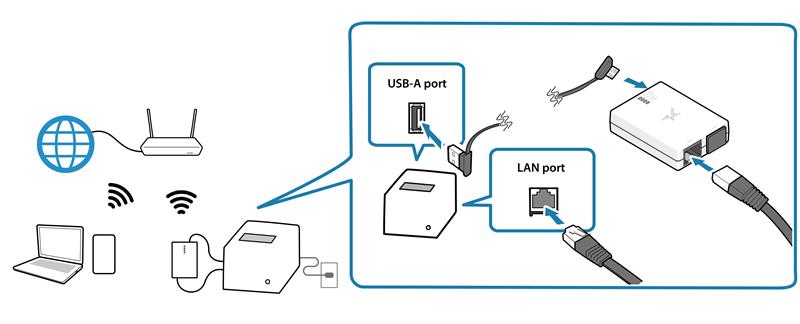 Safe use in the kitchen by supporting 5GHz bands with low risk of interference
Communication sometimes interferes around a microwave oven. This product supports not only 2.4GHz but also 5GHz, which has less risk of interference with other radio waves, and you can use it without anxiety even in such a case. Therefore, it is possible to use it in the kitchen where wireless LAN is difficult to use.
Realizes a neat layout without restrictions on wiring or installation location
Even in stores where wiring work is difficult or where complicated wiring is a problem, by switching to a wireless network connection, the printer installation location will not be restricted by wiring. As a result, the degree of freedom in the installation location increases, and a neat store layout can be realized.
※A wireless LAN base unit is required for wireless and Internet connection.
※Please refer to the online manual for applicable wireless printers.
If you would like to see information other than the above features, please refer to the "Others" section.
Dimensions(mm)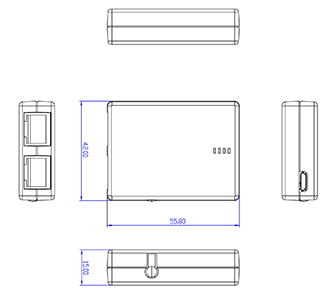 Specifications
Product Name
Wireless LAN Unit
Model Name
(Sales Countries)
MCW10 WHT C01
(US,CA)
MCW10 WHT C02
(EU,UK,AS,NZ)
MCW10 WHT C03
(JP)
Body Color
White
Dimensions
42x56x15mm (WxDxH)
Power Supply*
Operating Voltage 5V±5%
Wireless
Specifications
[2.4GHz] IEEE 802.11 b/g/n
[5GHz] IEEE 802.11 a/n/ac
Security
WEP(64/128bit), WPA-PSK(TKIP/AES),
WPA2-PSK(TKIP/ARS), WPA3-Personal
Accessories included
in the box
Easy Setup Guide, LAN cable (for communications)
USB cable (for power), Double-sided tape (for mounting the unit)
※Power can be supplied to the Wireless LAN Unit from the USB-A port on the printer.
Please use the USB cable provided in the box when supplying power.
Related Contents
For Corporate / Developers
Manual / Store Applications
Accessories/Options
Accessories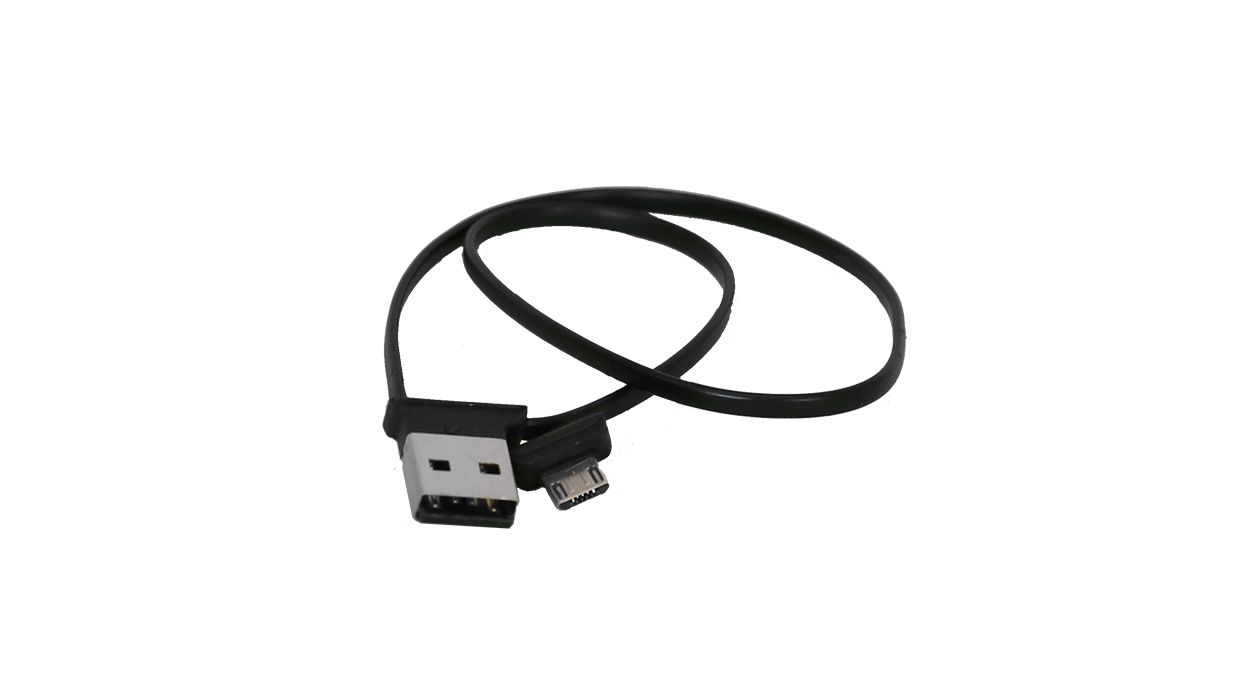 USB cable(for power)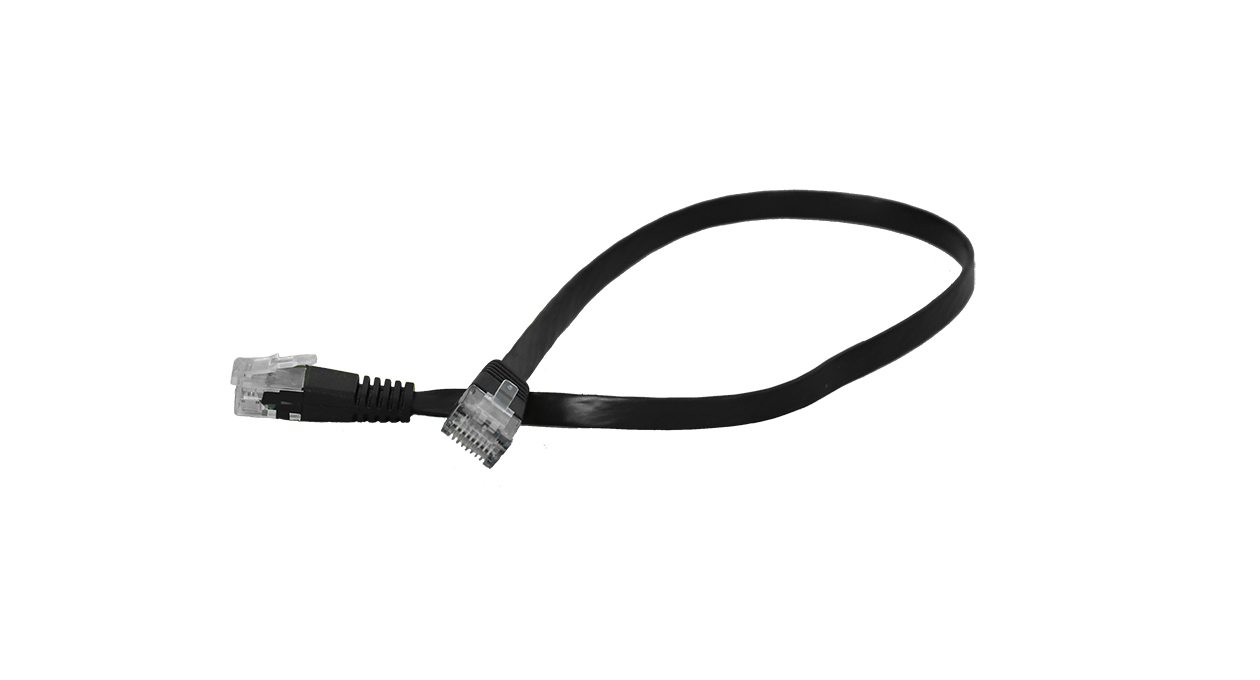 LAN cable(for communication)
Options
Other
Easy Setup
It is possible for users to easily build a network environment by using the Star Quick Setup Utility App provided
by Star Micronics.
Dual LAN ports
This product enables wireless connection with two LAN devices.
For example, you can connect two Star printers and/or one Star printer and one peripheral device.
Converts wired LAN port to wireless LAN
By connecting the Wireless LAN Unit to the wired LAN port, the printer can communicate via wireless LAN.
The printer works the same way as wired LAN communication, so no additional setting is required in the host application.
Power can be supplied from the USB-A port on the printer, and no separate power supply is required.
By connecting the USB-A port on the printer to the Wireless LAN Unit with the cable provided in the box, power can be supplied from the printer to the Wireless LAN Unit. There is no need to prepare an AC adapter or cable.
Supports "WPA3-Personal" encryption method with strong security
Installation Images
Wireless LAN Unit applicable printer
Frequency Bands
Model
Supported Channels
MCW10 WHT C01
[2.4GHz]
1 to 11 ch
[5GHz]
W52(36, 40, 44, 48 ch)
W53(52, 56, 60, 64 ch)
W56(100, 104, 108, 112, 116, 132, 136, 140, 144 ch)
W58(149, 153, 157, 161, 165 ch)
MCW10 WHT C02
[2.4GHz]
1 to 13 ch
[5GHz]
W52(36, 40, 44, 48 ch)
W53(52, 56, 60, 64 ch)
W56(100, 104, 108, 112, 116, 132, 136, 140 ch)
W58(149, 153, 157, 161, 165 ch)
MCW10 WHT C03
[2.4GHz]
1 to 14 ch
[5GHz]
W52(36, 40, 44, 48 ch)
W53(52, 56, 60, 64 ch)
W56(100, 104, 108, 112, 116, 120, 124, 128, 132, 136, 140 ch)
(Note)
*The printer firmware may update automatically once a new version or feature is available.
*All company and product names are trademarks or registered trademarks of their respective owners.
Trademarks