Star Micronics ANNUAL REPORT 2021
Strategy
Medium-Term Management Plan
Star Micronics put in place a new medium-term management plan in February 2022.
Taking stock of its Corporate Philosophy, Purpose, Management Policy, and Action Guidelines, the Company has outlined its Vision for 2030 based on the structure of this Philosophy and created a roadmap to realize this Vision.
Vision for 2030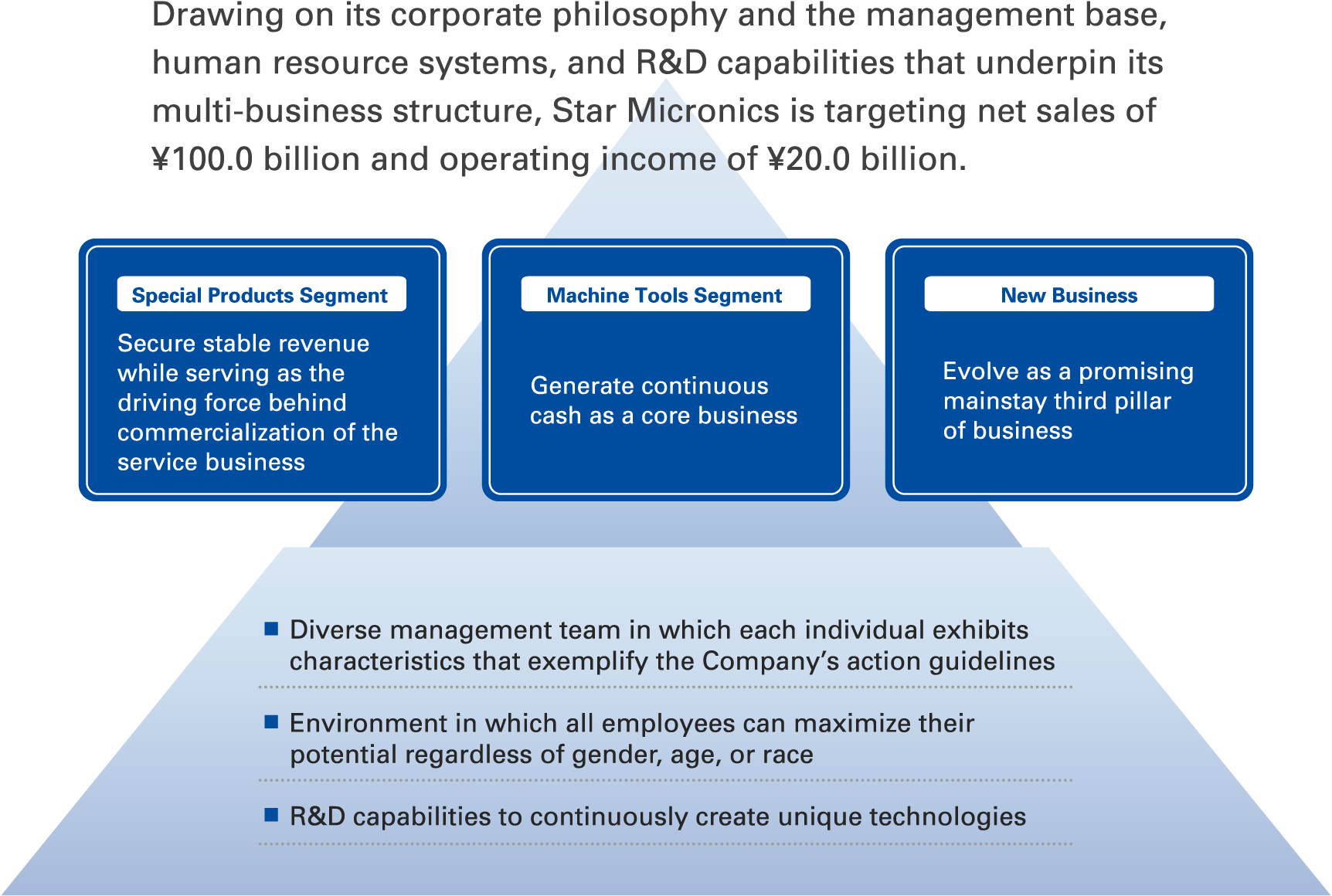 Vision Roadmap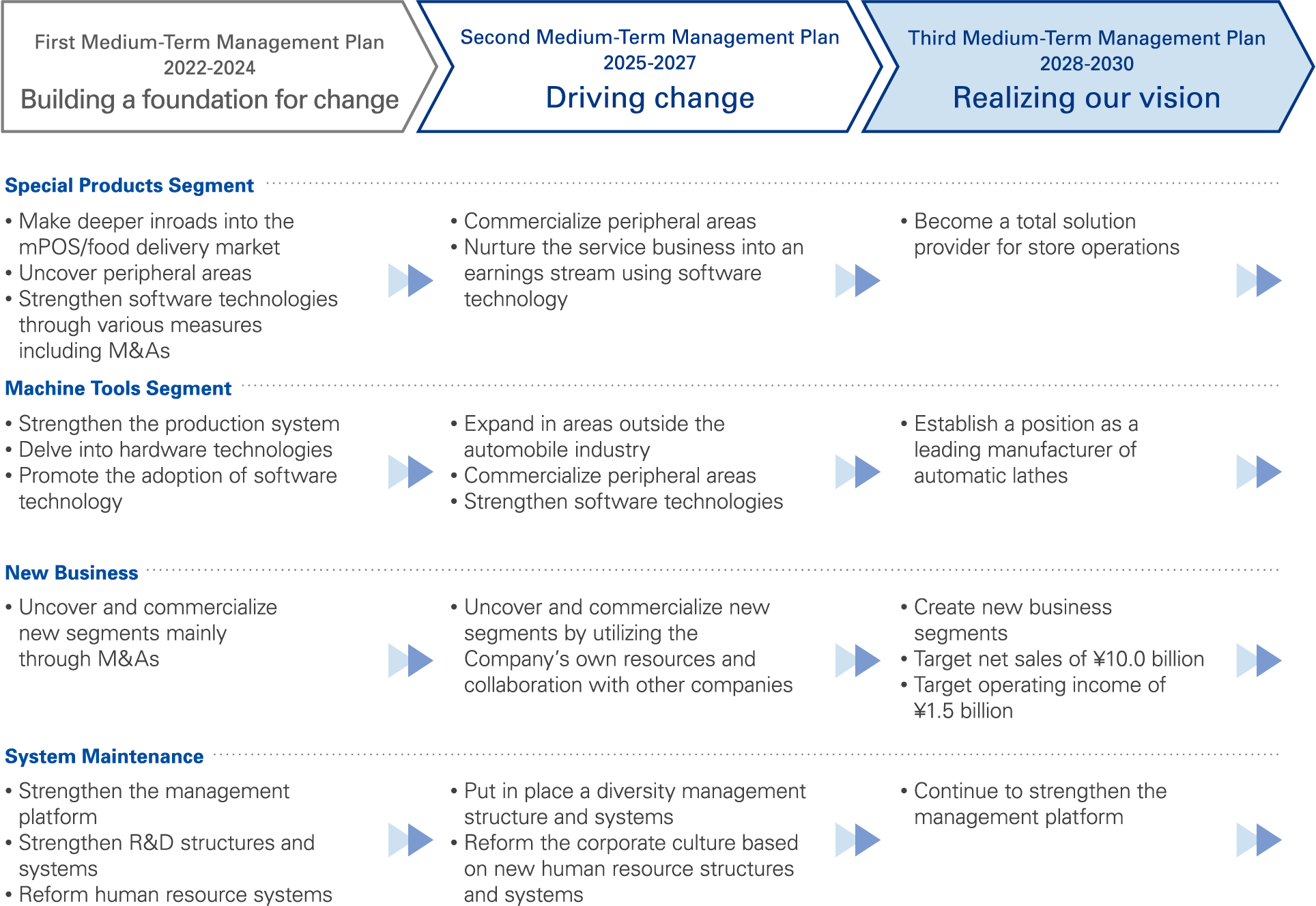 First Medium-Term Management Plan 2022-2024
In formulating the First Medium-Term Management Plan, Star Micronics has positioned the three years from 2022 to 2024 as a period for building a foundation for change in a bid to realize its Vision for 2030. KPIs and business strategies for each segment are presented as follows.
KPI
Actual

(Past three years cumulative/average)

Target

(Next three-year cumulative/average)

Operating cash flow (cumulative)
¥21.5 billion
¥20.0 billion–¥25.0 billion
Operating income per employee (consolidated)
¥3.38 million
¥6.00 million
ROE
7.4%
10.0% or more
Ratio of R&D expenses to net sales
2.9%
5.0%
Education and training outlays per employee (non-consolidated)*
¥39,124
¥50,000
* Reference: Average cost per company: ¥35,628 according to the FY2020 Survey on Education and Training Costs undertaken by SANRO Research Institute, Inc.
[ Special Products Segment ]
First Medium-Term Management Plan 2022-2024 KPIs
Actual

(Past three-year average)

Target

(Next three-year average)

ROA
16.0%
20.0%
Operating income ratio
13.6%
18.0%
Principal Initiatives
1 Explore and expand sales of products other than printers used in stores
2 Strengthen cloud-related technologies with an eye to external alliances
3 Optimize production and logistics through reorganization of EMS partners
[ Machine Tools Segment ]
First Medium-Term Management Plan 2022-2024 KPIs
Actual

(Past three-year average)

Target

(Next three-year average)

ROA
10.3%
15.0%
Operating income ratio
11.8%
15.0%
Principal Initiatives
1 Globally expand the Company's Solution Center Establish solution centers in Europe and Asia, building a user support system in collaboration with Japan
2 Enhance the development of mechanical technology and before/after-sales service support software
3 Expand production capacity through three manufacturing bases

(1) Undertake a large-scale renovation of domestic factories
(2) Increase floor area at the Company's Dalian factory
(3) Upgrade and expand facilities and equipment at the Company's factory in Thailand
[ New Business ]
Principal Initiatives Develop and commercialize new business proposals mainly through the use of M&A's
Target 2024: Net sales of ¥3.0 billion, operating income of ¥0.3 billion
Cash Allocation
Drawing on its operating cash flow and cash on hand over the three years of the First Medium-Term Management Plan, Star Micronics will allocate ¥21 billion to growth investments as a part of efforts to carry out the aforementioned principal initiatives and ¥9 billion or more to address certain concerns including the return of profits to shareholders.
Fund Allocation Plan (FY12/2022–FY12/2024)

In putting in place and carrying out its shareholder return policy, Star Micronics is targeting a total payout ratio of 50% or more including the purchase of own shares based on a stable dividend of ¥60 or more per share.
Sustainability
Star Micronics has also put in place its Sustainability Policy while at the same time identifying specific material issue targets from an ESG perspective.
Sustainability Policy
The Star Micronics Group aims to help bring about a sustainable society and enhance corporate value by putting into practice the core concept of the Company and employees growing together and contributing to society.
• Guided by a longer-term vision for the Group, we will provide society with new value created using our proprietary technologies.
• We will draw on the global network we have built up over the years to address common issues facing society worldwide.
• We will realize fair and highly transparent management through dialogue and cooperation with all of our stakeholders.
Initiatives to Address Material Issues
Material issues
Targets
SDGs

E

Environment

Addressing climate change by reducing CO2 emissions

Creating environmentally friendly products

Reducing greenhouse gas emissions

Promoting disclosure under TCFD and other
frameworks
Creating new businesses and products leveraging
proprietary technologies

S

Society

Fostering and utilizing diverse human resources

Setting targets for women in management and
monitoring progress; career training and support
Expanding and sustaining education and training
programs for global HR development

G

Governance

More rigorous corporate governance

Building a more fair and transparent governance
framework by addressing Corporate Governance Code guidelines