Star Micronics ANNUAL REPORT 2021
Review of Operations

Machine Tools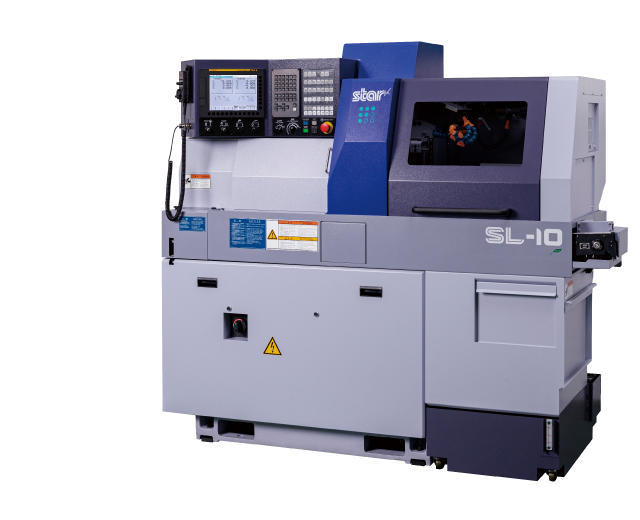 In the Machine Tools Segment, Star Micronics' Swiss-Type CNC Automatic Lathes enjoy a high market share worldwide. Ideally suited for precision component processing with high accuracy, the Company's products in this segment are used in the processing of a wide range of components including automotive parts as well as communication equipment and medical components. Star Micronics has put in place solutions that consistently address users' needs by leveraging the latest technologies including its proprietary Star Motion Control System and web-based application that optimizes and monitors machine operations, respectively.CNC automatic lathe video https://youtu.be/5eJjAH6Z2vA
MACHINE TOOLS

Business Environment and Results in 2021
Sales of CNC automatic lathes in the U.S. market increased substantially in 2021. Despite the impact of delays in distribution, this increase was mainly due to robust trends across a wide range of industries on the back of a recovery in the overall economy. In the European market, sales also increased significantly owing largely to the positive automotive-related turnaround. In addition to the ongoing robust telecommunications-related trend, automotive-, medical-, and other-related sales in China recovered. As a result, sales grew substantially in the Asian market. In Japan, sales enjoyed a major upswing, largely reflecting strong sales of mainstay automotive-related products.
Accounting for these factors, net sales in the Machine Tools Segment climbed 43.7% compared with the previous year, to ¥48,790 million (US$424,261 thousand) while operating income jumped 154.2% year on year, to ¥6,858 million (US$59,635 thousand)*2.
*1 The consolidated fiscal period for the fiscal period ended December 31, 2018 is based on and presented for a 10-month period for the Company and consolidated subsidiaries in Japan and a 12-month period for overseas consolidated subsidiaries.
*2 In conjunction with its decision to dissolve the Precision Products Division, Star Micronics Co., Ltd. took steps to revise the classification of its business segments in 2020. Effective from 2021, the Company reclassified the three Special Products, Machine Tools, and Precision Products segments into the two Special Products and Machine Tools segments. Meanwhile, turning to segment information in 2020, the amount included in the Precision Products Segment is now included in the Machine Tools Segment.
MACHINE TOOLS SEGMENT SALES
BY GEOGRAPHICAL REGION(Billions of yen)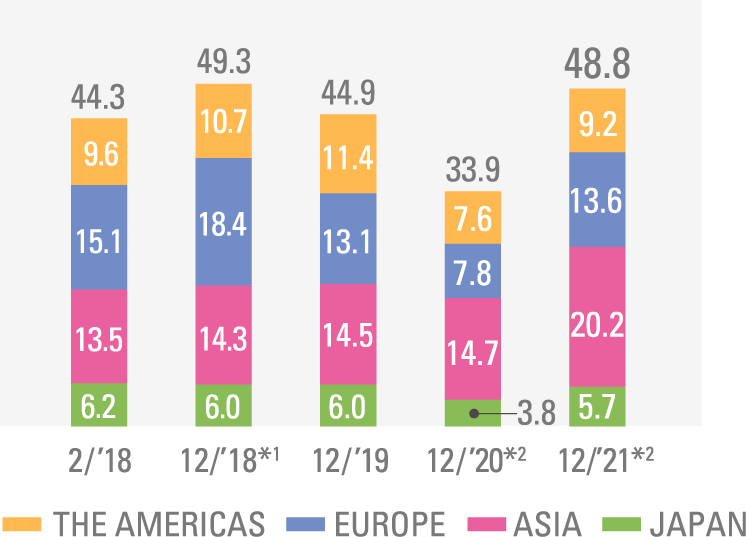 Outlook for 2022 and Business Strategies
Sales in the mainstay Machine Tools Segment are forecast to increase in 2022. This is mainly due to ongoing robust capital investment demand both in Japan and overseas.
As far as business results are concerned, net sales in the Machine Tools Segment are forecast to climb 14.3% compared with the year under review, to ¥55,760 million. Operating income is anticipated to increase 35.2% year on year, to ¥9,270 million.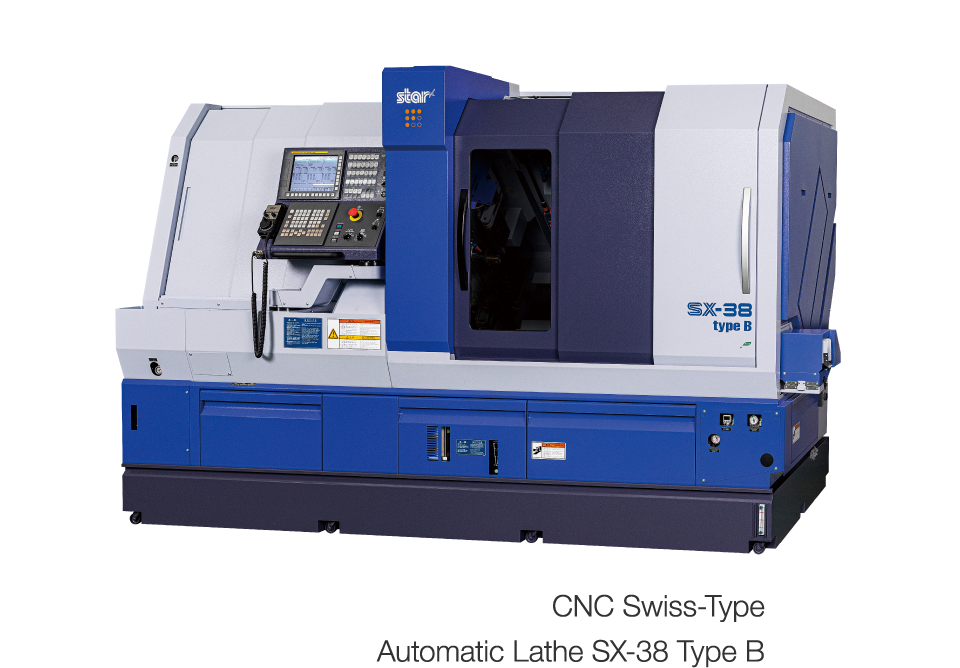 Launch of New Swiss-type Automatic Lathe Products
Star Micronics has newly launched the large diameter machining SR-32JIII as well as small diameter machining SL-7 and SL-10 as new models in its SR and SL Series of Swiss-type automatic lathes.
The SR-32JIII, which focuses on addressing large diameter machining needs, is the latest model in the market acclaimed, best-selling SR-32J series. Equipped with three types of power tools for the gang-type tool post for front-side machining, the SR-32JIII allows customers to select the optimum tooling layout tailored to their application needs. In terms of operability and workability, steps have been taken to incorporate structures and functions to the greatest extent possible in order to ensure further improvements.
Moreover, the SL-7 and SL-10 can process material diameters up to a maximum of 7 mm and 10 mm, respectively. Each model augments Star Micronics' multi-processing capacity and has been developed to address increasingly complex and diverse small diameter machining needs mainly in the information and communication, automotive and medical fields.
Moving forward, Star Micronics will work to upgrade and expand its lineup in a bid to increase its share in the machine tools market.