Product Info.
Launch of "SteadyLAN™", a New Solution to Connect an iPad to the Wired Internet via a Printer
~ The industry's first solution(*1) to support stable store operation with simple cable connection ~
Star Micronics will launch the SteadyLAN™, a new solution to support the stable store operation by enabling wired connection to the Internet of an iPad used for tablet POS, mobile ordering, etc.
This is the industry's first solution (patent pending) with the following three objectives:
1. Stable operation
To eliminate wireless communication problems when using iPad(*2) in stores
2. Easy installation / enhanced convenience
To realize three functions with a single cable: Internet connection, printer communication and iPad charging
3. Improved design
To simplify wiring around POS/ kitchen by unifying iPad and printer cable connection
By connecting the "SteadyLAN" compatible printer (described later) to the Internet via a wired LAN and connecting the printer and an iPad with a Lightning-USB cable, the iPad can use the Internet without Wi-Fi communication. At the same time, the iPad can communicate with the printer via USB or LAN and can be charged from the printer.

In recent years, there are more and more scenes where iPads are used in stores for POS apps and mobile order apps. When using these apps, it is necessary to connect the iPad to the Internet, and Wi-Fi is mainly used for communication. However, Wi-Fi communication may be difficult to use depending on the environment or may become unstable due to radio wave interference. This solution provides stable operation of POS apps and mobile order apps by providing a wired connection method for iPad to stores that have problems with Wi-Fi communication.
Especially in the case of mobile orders that have recently become popular, restaurants need to manage orders received via the Internet in real time, so the communication stability for iPads is important. The "SteadyLAN" compatible printers are the ideal products for mobile ordering because they provide the stable communication for iPads while printing orders to support smooth operations of restaurants.
This solution is supported by Star mC-Print® series printers, the MCP21LB, the MCP31L and the MCP31LB(*3). It can be used by updating the printer firmware to version 2.3 or later.

【Scheduled availability】
November 29, 2019
The latest firmware will be provided free of charge
with the dedicated application, the mC-Print Utility.
App Store is a service mark of Apple Inc
Google Play is a trademark of Google LCC.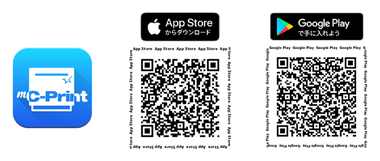 We will continue to make efforts to support store operations by expanding products that support "SteadyLAN" and providing various store solutions.
*1 According to the investigation by Star
*2 In addition to iPad, this solution can be used on other iOS devices such as iPhone and iPod touch.
・ iPad, iPhone and iPod touch are trademarks of Apple Inc. registered in the U.S. and other countries.
・ IOS is a trademark or registered trademark of Cisco in the U.S. and other countries and is used under license.
・ The trademark "iPhone" is used with a license from AIPHONE Co., Ltd.
*3 You need to update the printer firmware to version 2.3 or later.
Please note the model name because some printer models do not support this solution.