Product Info.
Swiss-Type Automatic Lathe SR-38J Newly Released
A new model with selected functions for multi-processing of large diameter workpieces
Star Micronics Co., Ltd. will launch SR-38J, a new model of Swiss-type automatic lathe focused on the machining of large diameter workpieces for manufacturing industries including automotive, hydraulic and pneumatic devices worldwide in November 2018.
Complementing the SR-38 series of lathes launched in 2016 which can machine up to 38 mm of diameter, the new model has selected functionalities for multi-processing with 5 linear-controlled axes. The portal-type tool post is arranged to surround the guide bush for the front-side machining. In addition to the standard 5-tool holder, the optional 3-tool holder can be mounted on the operator side, which, together with the 2-tool holder on the rear, makes the total of 10 outer diameter machining tools mountable.
Regarding multi-processing, 3 power driven axes are mounted on the tool post for cross milling with an extra cartridge position to mount the tooling unit to meet your needs. By mounting the optional extension unit at the cartridge position, the number of tool units can be increased to allow a variety of tooling configurations. Together with the back-working tool post mounted with the 4-spindle unit, front and back sides of the workpiece can be machined separately or simultaneously to reduce the total machining time.
Further, this model employs the guide bush switching mechanism to meet a variety of machining needs. The guide bush mode is useful in machining long workpieces such as motor shafts as the guide bush works as a material steady rest for high accuracy machining by reducing runout of the workpiece. On the other hand, machining of short parts such as nuts can be optimized by adopting the non-guide bush mode, as it will lessen the length of stock waste, reducing the material cost.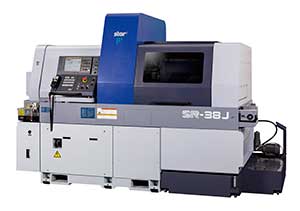 Additionally, the NC system is installed with a variety of help features such as an alarm help function for checking alarm contents on NC screen. With the swing type control panel to facilitate operation at the optimum position, or the flip-up door to ensure wide opening and sufficient workspace for setups and maintenance, this model is designed for improved operability and workability for the operator.
Features of SR-38
[High Functionalities]
The portal-type tool post gives high extensibility of mountable tools for front-side machining to facilitate flexible tooling.
A tool unit for such machining as cross-milling or front-drilling is mountable at the power tool cartridge position.
An optional cartridge position extension unit allows up to two more cartridge positions to be added for even more advanced tooling configuration such as slitting or thread whirling.
A rotary cylinder ensures stable gripping force for main spindle collet opening and closing.
A mechanism to switch between guide bush and non-guide bush modes is adopted for machining optimization for various length of workpieces.
[High Rigidity and Accuracy]
Non-guide bush mode utilizes the spindle head slide guideway structure to ensure the rigidity of the main spindle.
Both the main and sub spindles each use a built-in motor. A built-in sensor is also used to improve indexing accuracy.
[Operability and Workability]
A swing type control panel facilitates operation at the optimum position all the time.
The headstock chamber and cutting chamber use flip-up doors to provide sufficient work space.
Main Specifications
(1) Max. machining diameter
⌀ 38 mm
(2) Max. headstock stroke
Guide Bush Mode: 320mm
Non-guide Bush Mode: 95 mm
(3) Max. main spindle speed
7000 min-1
(4) Main spindle motor
7.5 kW (continuous) / 11 kW (10 min /25 %ED)
(5) Max. sub spindle speed
7000 min-1
(6) Sub spindle motor
3.7 kW (continuous) / 5.5 kW (10 min/40 %ED)
(7) Gang-type tool post specifications
Tool
Front: 5 tools
Rear: 2 tools
Power tool
Cross milling: 3 tools
Cartridge type: At 1 position
Max. spindle speed
6000 min-1
Drive motor
2.2 kW (continuous) / 3.0 kW (5 min/30 %ED)
(8) 4-spindle back working unit specifications
No. of tools
4 tools
Drive motor
1.0 kW (continuous) / 1.2 kW (5 min/30 %ED)
(9) Front machining capability
Stationary tool
Max. drilling capability     ⌀ 23 mm
Max. tapping capability     M16 x P2.0
Power tool
Max. drilling capability     ⌀ 10 mm
Max. tapping capability     M8 x P1.25
(10) Back machining capability
Stationary tool
Max. drilling capability     ⌀ 14 mm
Max. tapping capability     M12 x P1.75
Power tool
Max. drilling capability     ⌀ 8 mm
Max. tapping capability     M6 x P1.0
(11) Machine dimensions (W x D x H)
2740 x 1315 x 2120 mm
NOTE 1: Swiss-type automatic lathe
The Swiss-type automatic lathe was devised as watch component processing machinery in Switzerland in 1870s. Known as a "sliding head-type automatic lathe" as well, it has remarkable characteristics of high-precision cutting of components with longer length compared with the diameter.
In general, if long and narrow parts are processed with a general-purpose lathe, flexure will occur on the workpiece, making finishing with the correct dimensions impossible. The Swiss-type automatic lathe utilizes a guide bush to function as a material steady rest. The tool, positioned at a certain distance from the guide bush, gives a cutting motion only the direction of outside diameter. This allows the workpiece to be cut accurately with no flexure. As for axial motion, the headstock, rather than the tailstock, moves while clamping a workpiece.
NOTE 2: Non-guide bush type
This is a sliding head-type automatic lathe which is designed based on the Swiss-type automatic lathe with a guide bush dismounted. Without a guide bush, it is not well suited for machining narrow and long parts. If the workpiece is short and does not deflect, however, such material can be handled effectively.
With the Swiss-type automatic lathe, the rear side of a bar material needs to be handled as waste as a portion equivalent to the size of the guide bush structure which functions as a steady rest for the material cannot be machined.
The non-guide bush type reduces the waste to about 1/3 in length compared to the waste made by the guide bush type.
NOTE 3: Spindle sleeve slide guideway structure
This structure has a sliding surface machined according to the outer diameter of the head stock spindle sleeve, which moves while clamping the workpiece. By eliminating the gap between the spindle sleeve and the guideway, the structure supports the cutting load applied to the head stock through the slide guideway and improves the head stock rigidity.