Product Info.
New brand of peripherals "mCollection™" for mPOS
Launch of new thermal printers, mC-Print2™ and mC-Print3™
Star Micronics announces the "mCollection™", the new brand of peripherals for mPOS (mobile POS) (*1) and launches mC-Print2™ and mC-Print3™, the new thermal printers under this brand name, available from June 2018.
– New brand "mCollection™ –
mCollection™ is the peripheral devices brand for mPOS, based on the concepts of " Stylish Design", "Compact Size", "Easy User Experience" and "Common Software (*2)". The core product of mCollection™ is "mPOP", the all-in-one printer and cash drawer solution. Total sales have reached 30,000 since its launch in October 2015. The mPOS market is expanding to not only small-scale retailers but also medium/large-scale retailers. mCollection™ will have an extensive lineup including receipt printers, scanner, customer display and cash drawer, to offer the best peripheral devices for retailers of any size.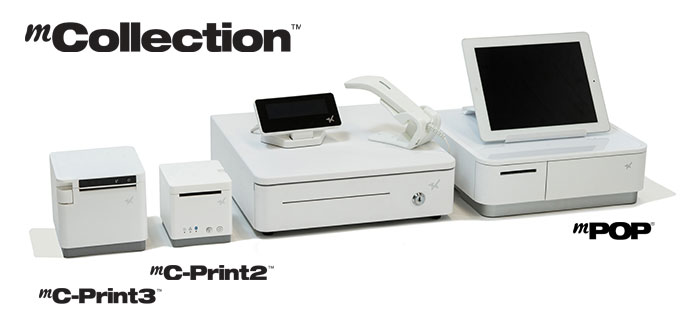 – mC-Print2™ and mC-Print3™ –
mC-Print2™. a 2-inch printer (receipt width of 58 mm) and mC-Print3™, a 3-inch printer (receipt width of 80mm) have a stylish and compact design and are equipped with multiple interfaces to support various environments. The original connection development kit allows you to control a scanner and a customer display through the printer from the host, reducing development time and cost. mC-Print3™ has a paper saving function to minimize the top margin of receipts as well as a splash- proof and insect-proof design for kitchen use.
The new products are targeted to reach 100,000 units of sales by the end of fiscal year 2020, expanding the market from Japan to USA, Europe, Asia and other worldwide territories. We are already proud of a high market share in mPOS printers and aim to increase this share via this new product launch.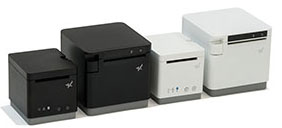 We will exhibit these printers at "RETAILTECH JAPAN" held at Tokyo International Exhibition Center from March 6 to March 9, 2018.
(*1) mPOS(mobile Point of Sale). Normally tablets are used in this POS system. Compared to a conventional POS system and to those with a PC, initial installation costs can be lowered.
(*2) Software to connect the host system
-Main features of "mC-Print2™" and "mC-Print3™-
【Stylish and Compact Design】
Builds on mPOP® concepts. Snow white and Piano black color options provide a stylish appearance from a 360-degree angle and a sophisticated compact design with minimum footprint to maintain functionality.
【Stable Connectivity】
Equipped with multiple interfaces (Bluetooth/USB/LAN) and with capacity to power a tablet terminal.
【Various Peripheral Devices】
A scanner, customer display and a cash drawer will be available, using mC-Print™.
 ※The mCollection lineup will be expanded to meet market needs.
【Splash- proof/Insect-proof Design for Kitchen Use】 ※Only mC-Print3™
Designed for a kitchen environment. Easy setting of LAN fixed IP address
Capable of setting through USB and Bluetooth
【Paper Saving Function】 ※Only mC-Print3™. Paper width and paper length are limited.
Paper saving function to minimize the top margin of receipts even when the partial cut setting is selected. Ideal for short order sheets
【Smart Receipt Issuing】
De-curl function (to avoid giving curled paper)
【Multi-language fonts】
Equipped with Japanese fonts, ANK, Simplified Chinese fonts, Traditional Chinese fonts and Korean fonts
Able to print receipts for foreign visitors.
【Enhanced Connection Development Kit】

SDKs for diverse operating systems including iOS, Android and Windows are available free of charge to reduce development time and cost. Printing from both the native app and the Web app is supported.
【Easy setup】
Easy setup guide, dedicated utility application and online manual are provided for any mPOS users to set up communication with network and mobile devices.
【Cloud Ready Function】
AllReceipts, the free electronic receipt service is supported.
(Note)
・iPad and iPhone are trademarks of Apple Inc., registered in the U.S. and other countries.
・App Store is a service mark of Apple Inc.
・IOS is a trademark or registered trademark of Cisco in the U.S. and other countries and is used under license.
・The trademark "iPhone" is used with a license from Aiphone K.K.
・Android, the Android logo, Google Play and the Google Play logo are trademarks or registered trademarks of Google Inc.
【Product Specifications】
The product specifications will be available on our website before the launch.
【Model Name / Price / Availability】
Model Name
Color
Receipt
Width
USB
LAN
Bluetooth
Peripheral device
control function
Price
Availability
MCP20 WT JP
White
58mm
✓
✓
―
―
Jun. 2018
MCP20 BK JP
Black
58mm
✓
✓
―
―
Jun. 2018
MCP21 LB WT JP
White
58mm
✓
✓
✓
✓
Sep. 2018
MCP21 LB BK JP
Black
58mm
✓
✓
✓
✓
Sep. 2018
MCP31 L WT JP
White
58mm/80mm
✓
✓
―
✓
Jun. 2018
MCP31 L BK JP
Black
58mm/80mm
✓
✓
―
✓
Jun. 2018
MCP31 LB WT JP
White
58mm/80mm
✓
✓
✓
✓
Jun. 2018
MCP31 LB BK JP
Black
58mm/80mm
✓
✓
✓
✓
Jun. 2018