Product Info.
Label printer "mC-Label3" released!
Environment-friendly linerless strong adhesive label paper is available

Star Micronics Co., Ltd. has added the thermal 3-inch label printer "mC-Label3" to the mCollection™ of peripheral equipment for stores to meet the label printing needs of restaurants and retail stores. It will be released in Japan and overseas in mid-2023.
In the increasing demand for food delivery, takeout, and e-commerce delivery scenes, label solutions linked to store systems have become a must-have for stores to reduce operational errors and realize efficient store operations. There are various types of label paper, but in recent years, linerless label paper has been gaining popularity because "the user can print with any label length," "the user does not need to peel the label off from the liner," and "environmental friendliness that does not cause unnecessary waste."
Until now, the printers that support weak-adhesive linerless labels have been lined up, but we have received comments that "stronger adhesive is required" from some users. Therefore, "mC-Label3" supports strong adhesive linerless labels, which were difficult to handle with small desktop printers before, and realizes high-speed printing of 180 mm/sec (maximum) while maintaining print quality. Since various types of paper, including linerless labels, are available, you can use mC-Label3 confidently for a wide range of applications, such as price tags, backyard inventory management labels, shipping labels, product labels, and food package labels.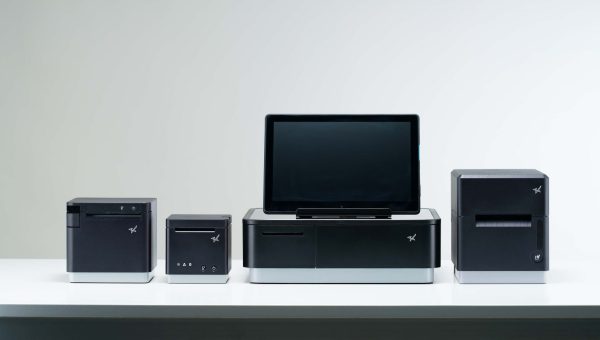 The mC-Label3 will be released in the Americas, Europe, and Asia including Japan. We will aim to increase further our market share in the growing label printer market.
Main features
Compatible with strong adhesive linerless labels and a wide range of paper types and paper widths
We have pursued a system that prevents labels with strong adhesive from sticking to the inside of the printer, and mC-Label3 can handle strong adhesive liner-less labels as well. It also supports weak adhesive linerless labels, die-cut labels (*1), full-surface labels, and receipts. In addition, by adopting an adjustable paper guide (*2), users can set paper rolls of various widths without additional parts.
Extensive communication method support
Supports multiple interfaces of USB-C, wired LAN, Bluetooth® (*3), and wireless LAN (*4). USB-C can automatically detect various OSs and communicate properly. It supports both power supply and communication to tablets, and communication with PCs. The "SteadyLAN" function provides the printer's wired network environment to mobile terminals, enabling a stable Internet connection on mobile terminals, and the communication speed of this function has been increased. In addition, we have newly developed and adopted the "TetherLAN" function that connects the printer to Internet by sharing the data communication of the mobile terminal with the printer via USB. Users will be able to connect the printer to Internet even outdoors.
Generous printing solution and easy setup
As part of mCollection, development kits, various drivers and utilities that can be used for multiple OSs such as iOS(*5), Android™,(*6),and Windows®(*7) are available, just like conventional receipt printers. Users can easily configure the initial settings according to the paper type using the provided mobile app "Star Quick Setup Utility". mC-Label3 also supports CloudPRNT, which enables direct printing from a remote server, so mC-Label3 can directly print orders via the cloud like online orders.
Easy maintenance design for long-term use
The mC-Label3 is designed so that parts that have worn out after long-term use can be replaced without tools. The video manual provides easy-to-understand instructions on how to replace parts and how-to-clean. By using the Device Monitor provided in the Star Micronics Cloud Services, you can receive email notifications from the cloud about the right time to replace parts according to the frequency of use of the printer.
Intuitive label creation and printing service
In order to meet the requests such as "I want to easily create and print store original labels", we offer "Label Builder", which allows users to design labels intuitively, and "One Touch Label", which allows users to print created designs with a single press of a printer button.
Functions for various use cases
When using linerless labels, if the labels are printed continuously according to the order receipt, they may stick to unexpected places. In order to avoid such troubles, the mC-Label3 is equipped with a " Hold Print detection " that prints the next label after the printed label is taken. It is designed to meet IP22 so that it can be used without worry even near the kitchen.
*1 A label in which standard-shaped cut-out label paper is lined up on a non-stick liner.
*2 A structure that allows the printer's paper holder to move left and right by moving the lever while pressing it and stops at a position that matches the width of the paper to be loaded.
*3 The Bluetooth® word mark and logos are registered trademarks owned by Bluetooth SIG, Inc. and any use of such marks by Star Micronics Co., Ltd. is under license.
*4 In a network (LAN: Local Area Network) that connects devices indoors or in a building, information is exchanged by radio waves to the devices.
*5 IOS is a trademark or registered trademark of Cisco in the U.S. and other countries and is used under license.
*6 Android is a trademark of Google LLC.
*7 Windows is a registered trademark or a trademark of Microsoft Corporation in the United States and/or other countries.
Main specifications
Series
mC-Label3
Model Name
MCL32CI / MCL32CBI
Body Color
Black
Dimensions
143 x 212 x 169 mm (W x D x H)
Printer Method
Direct Thermal
Weight
Approx. 1.8kg (main unit only)
Printing Speed
Max. 180mm/second
Power Supply
External 100~240V AC±10%
Paper
Support media
Linerless label (Strong/Weak adhesive), Die-cut label, Continuous label, Receipt
Paper Width
25.4~80mm (Adjustment type)
Roll Diameter
Max 102mm
Top margin
Min 3 mm
Auto-cutter
Selective: Partial cut (Leave center point) / Full cut
Sensor
Taken sensor, Paper jam sensor, GAP/Black mark sensor, Paper end sensor, Cover open sensor, Paper position sensor, Paper width sensor
Interface

USB-C (Power Delivery) x 1 (to communicate with iOS, Android™, Windows®)
USB-A x 2 (to communicate with peripherals)
Ethernet x 1
Bluetooth (only MCL32CBI model)
Wireless LAN (Optional Wireless LAN Unit is required)
Cash drawer ports x 1

Flexible Connection
StarXpand SDK, StarPRNT SDK, Star PassPRNT, StarwebPRNT, CloudPRNT, Various drivers, Star Quick Setup Utility, SteadyLAN (high-speed support), TetherLAN etc.
Emulation
StarPRNT
Designed for the kitchen
Ingress protection rating: IP22
Accessories in the box
Power Supply Adapter, Power Supply Cable, USB Cable, LAN Cable, Easy Setup Sheet
Options
Wireless LAN Unit (MCW10), Buzzer (BU01-24A), Customer Display (SCD222U), Barcode Scanner (BCR-POP1)