Product Info.
Star Micronics releases "mPOP", the new product combining printer and cash drawer
The next generation product pursuing the best design and functionality for mPOS!
Starting from the end of September, 2015, Star Micronics Co., Ltd. will launch to the market our new product "mPOP", which consists of a new concept that a 2 inch thermal printer and a cash drawer are combined into one housed product.
These days, Star has seen the big growth of mPOS (mobility POS) demand which utilizes tablet devices and smart phones for payment. This new product is the best solution for such mPOS usage and definitely focuses the ease of use pursuing the best design and functionality in the stylish POS environment. Just with the "mPOP", customers can cover all the work and POS environment which otherwise would have required the purchase and set-up of printer and cash drawer one by one (*1).
The existing printers and cash drawers were given little importance to their design and given larger sizes due to the condition requiring the communication with POS terminals or PCs. The shops with mPOS system are normally design-conscious shops such as beauty salons and apparel shops, therefore the POS devices should have harmony with the shop interior.
The new product, in spite of its all-in-one configuration having printer and cash drawer inside, is very stylish from 360-degree view and will not be even recognized as a printer or cash drawer thanks to its compact appearance in comparison with existing standard cash drawers. The drawer opens driven by electric motor so it is very quiet and will keep the shop atmosphere from spoiling by large sound.
The communication with host devices (tablet, smart phone or PC etc.) are via dual interface, Bluetooth and USB. There are 4 additional USB ports which can power the peripheral devices and communicate with those like barcode scanners (*2). They are also capable of charging tablets, which helps unify the complex wiring to only one power cable to "mPOP", and the bottom plate is designed to house the wires of peripheral devices, which results in very neat table top. The printer has convenient de-curl function to avoid giving curled receipts.
All what is needed in the actual use such as tablet stand, sample roll paper and power cable is packed together in the box (All-in-one package), so it is ready to start, once host device arrives. Similarly the store applications (* 3) and online manuals are available anytime to support customers to make initial installation and configure settings.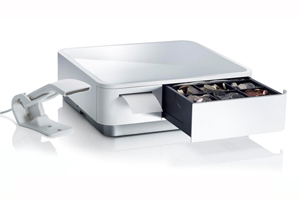 Star will sell worldwide the new product to USA, Europe and Asia as well as Japan and will target the sales volume of 140 thousand units until 2017 yearend. Star is proud of our high market share of mPOS printers and will try harder to expand it further more by enriching our mPOS product lineup, a part of which is this introduction.
(*1) In addition, host device and application are necessary to control the mPOP.
(*2) The peripheral devices designated by Star Micronics.
(*3) Applications designed to use in iOS or Android which are available in App Store or Google Play.
Main features of the new product
No printer-like nor cash drawer-like stylish appearance
Minimum footprint possible for a thermal printer and cash drawer combined product.
Color selection from Snow white and Piano black appealing the beautiful appearance from 360-degree view and high-class mood.
All-in-one package
Together with the mPOP, the box has everything such as tablet stand, sample thermal roll paper, power cable, mount bracket (to anchor the product) and barcode reader (according to the version).
Smart cabling
The bottom plate has channels and hooks to house and keep inside various cables.
Has capacity to power peripheral devices and charge tablets and unify the wiring to only one power cable to mPOP.
Smart connectivity
Connectable with host devices via Bluetooth or USB interface (Dual interface).
Connectable with tablets and other peripheral devices designated by Star Micronics via each of the 4 type A USB ports (0.5A x 2 / 1.5A x 2).
Compact and high-functional 2 inch thermal printer
De-curl function (to avoid giving curled paper).
High quality 2 inch thermal printer easy to change paper roll.
Innovative cash drawer
Quiet drawer driven by 5V motor.
Security with electronic lock key.
Tray for 4 types of bills and 6 of coins. Additional storage space beneath the coin tray. Original design for coin space adjustment and easy bill pick-up.
Store applications
Easy installation, setting configuration and other practical supports by special utility applications downloadable from App Store and Google Play. * iOS or Android utility applications.
Online Manuals
The online manual (HTML) is available anytime, which always promises the latest documentation is accessible.
New StarIO SDK (Free of charge)
Simple and easy-to-understand API, source code and manuals.
Modifiable from 3 inch (80 mm) wide graphic printing format to 2 inch width (58 mm) by print reduction function. Customers who use 3 inch Star printers can print from mPOP by minimal application modification.
1D USB Barcode reader specialized for mPOP
1D USB barcode reader best matching the mPOP design is included (according to the version). The barcode reader communicates with the tablet via mPOP Bluetooth.
(* Note)
iPad and iPhone are trademarks of Apple Inc., registered in the U.S.
App Store is a service mark of Apple Inc..
IOS is a trademark or registered trademark of Cisco in the U.S. and other countries and is used under license.
Trademark of iPhone is being used under license of Aiphone Co., Ltd..
Android and Android logo, Google Play and Google Play logo are trademarks or registered trademarks of Google Inc..
mPOP is a registered trademark of Star Micronics Co., Ltd..
Main features of the product
Product Name
mPOP
Body Color
Snow white, Piano black
Dimensions (W)x(D)x(H)
308 x 300 x 100 mm
Printer
Weight
3.54 kg (excluding cable, roll paper, optional parts and accessories)
Print Method
Direct Line Thermal
Print Speed
100mm/sec
Paper Type
Thermal Roll Paper
Paper Width
58mm
Roll Diameter
50 mm
Autocutter
Guillotine/Partial Cut (Center Cut)
Cash Drawer
Drive Method
5V Motor (Quiet open/close)
Tray Capability
4 bill types and 6 coin types
Reliability
300 thousand of times (open/close)
Interface
Dual: Bluetooth、USB(Type B)
USB Port (Type A)
0.5A x 2 ports / 1.5A x 2 ports
Specialized Barcode Reader / Charging
Security Lock
Kensington compatible slot
Accessories included in the box
Tablet Stand
Sample Thermal Roll Paper
Mount Bracket (Anchor Tool)
Mount Template
Power Cable
Setup sheet
Safety Instructions
Barcode Reader (according to the version)
(Note) The specifications and dimensions mentioned above are subject to change without notice.