Product Info.
Star Micronics Exhibited the New Digital-Receipt Service "ALLReceipts" at NRF 2015
The service will officially start in May, 2015
Star Micronics Co., Ltd. exhibited the Digital-Receipt service "ALLReceipts" for the small and medium business market at NRF (National Retail Federation), the largest retail show in the USA, held in January, 2015.
This Digital Receipt service will be offered at free to users of Star printers and enable users to enjoy convenience of having their receipts available anywhere, anytime, on any device. The receipt data is stored on the cloud server via Star printers and shoppers can see it by using a dedicated application on their smartphone. Compared to the Digital Receipt service provided by major POS venders and E-receipt service via e-mail, the Star Digital Receipt service has many advantages;
Solution suitable for the small and medium business, no high-cost hardware is required and easy to deploy.
Available globally.
Possible to store image data of exactly same contents as printed receipts.
Stores receipt data on Microsoft Azure (*)TM, the best and most reliable cloud server for enterprise applications.
Retailers can utilize the Digital Receipt as journal data.
Retailers can receive customer satisfaction surveys (on four-level scale).
Retailers can monitor printer status remotely (device management).
Shoppers can check receipt data in a real time by using a smartphone application.
Shoppers can start using this application without any user registration (Easy to Use).
High connectivity with other systems (plan to conform to the ARTS XML Digital Receipt standard).
The Star Digital Receipt service will reduce inconvenience that existing Digital Receipt services have, such that a received e-mail receipt is buried in the mail box and that it is hard to search a necessary receipt. In addition, Star Micronics can realize merits for both retailers and shoppers, by connecting a retailer and a shopper via a printer and by linking a shopper with his receipt data beyond the shop's categories globally.
Star Micronics will start a trial operation of the new Digital-Receipt Service immediately after the NRF and will officially release it in the USA, Europe and Japan in May, 2015.
* Microsoft AzureTM is a trademark of Microsoft Corporation.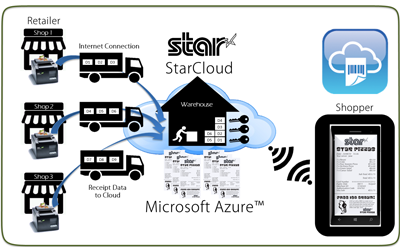 Images of ALLReceipts Service * The application design may be changed.
1) Opening Display of ALLReceipts APP
2) Receipt Receiving Display
3) Actual Receipt Data
(Easy Rating Service of
Shopper's Satisfaction)
| | | |
| --- | --- | --- |
| 4) Receipt History | | |
| | | |