A company and its employees must constantly evolve through a process of steady development while also making every effort possible to improve the lives of each individual. This growth must happen together.
01
Well-developed Technology and Pride Cultivated Through Precision Parts Processing
The history of our company began in July 1950 when Star Manufacturing Co., Ltd., was established in Tegoshi, Shizuoka City (currently Tegoshi, Suruga Ward, Shizuoka City). At that time, with six employees and five automatic lathes, we started out manufacturing and selling parts for wristwatches and cameras, and have continued to manufacture parts that require constant fine and high-precision processing for 70 years. It has been a constant quest for even higher precision. We improved and remodeled machine tools in order to make the best use of the technology we had at that time, and eventually came to produce our own machine tools such as the "Swiss-type Automatic Lathe" in-house. At the same time, we have accumulated technologies in electrical engineering and information engineering, and have expanded our field of activities to meet the needs of the times, including the development of printers. Our technology for pursuing "precision", which has been handed down to the present, will continue to develop further in the future.
02
Combining craftsmanship and user-mind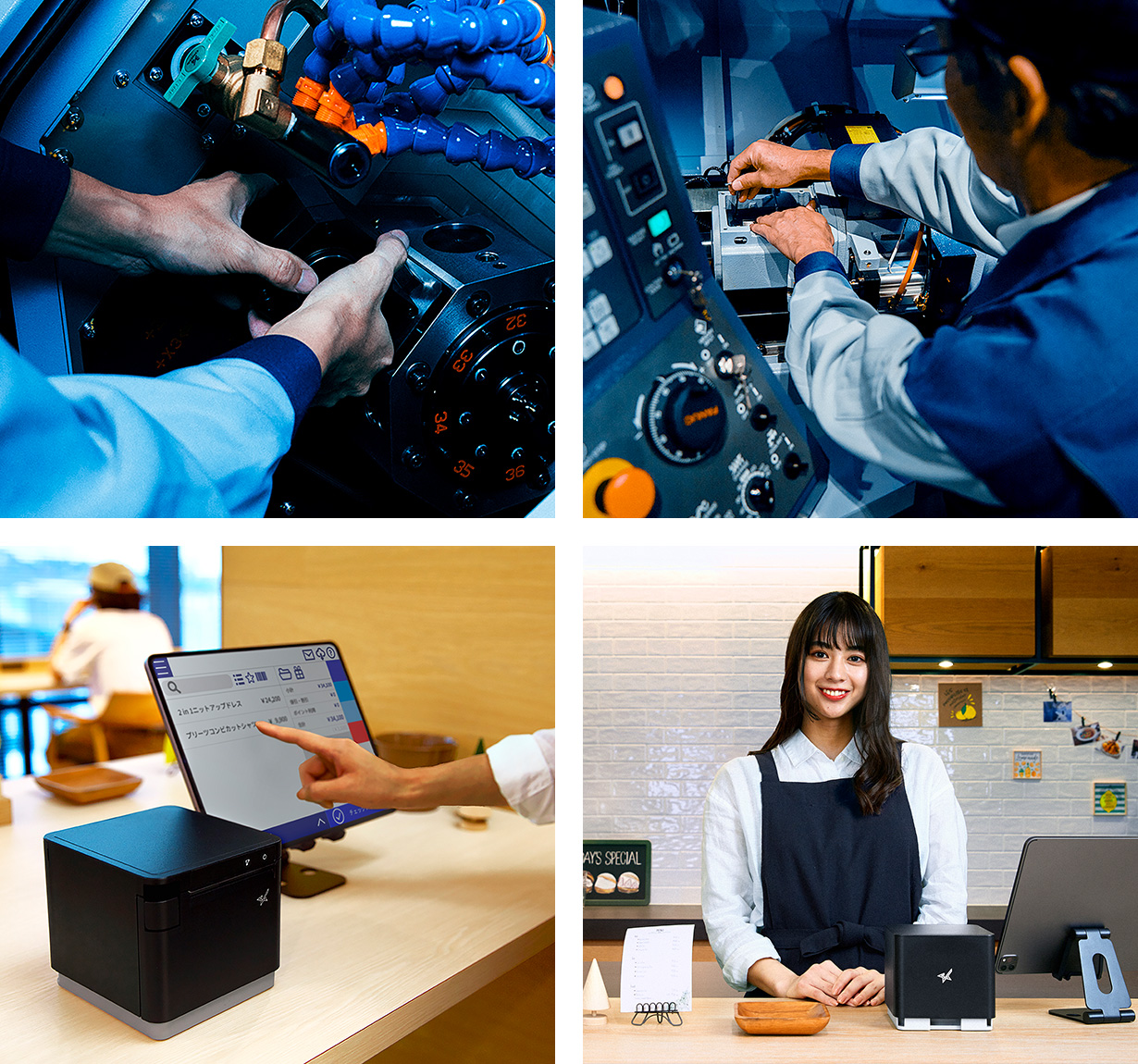 Our products, which combine our commitment to technology cultivated through precision machining technology and our meticulous attention to detail tailored to each customer, are used in a variety of fields around the world.
(Machine Tools Division)
High-precision and compact parts are required for various advanced products such as automobiles, which are becoming increasingly sophisticated, and digital devices, which are becoming increasingly compact. Our machine tools are exactly the products that meet the current processing needs. In addition to our mainstay Swiss-type automatic lathes, we have also developed products that are not bound by conventional frameworks, and offer a wide lineup of products as a comprehensive CNC lathe manufacturer.
(Special Products Division)
Our small printers and card reader/writers are widely used in supermarkets, restaurants, retail stores, etc., and are highly evaluated around the world for their user-friendliness and beautiful, easy-to-read high-speed printing. In addition, business needs are expanding in conjunction with tablet POS systems due to their excellent scalability and flexibility in system configuration. We also provide various solutions to small and medium-sized stores using our printers, to improve their sales.